It is a good job that you cannot see the back of my LOs because I am terrible for gutting my CS and PP in order to make everything go further. I'm not quite sure why I do this as I have enough stash to keep me scrapping for a decade without resorting to such measures ... I guess it's just part of being me!
I reached a whole new level of parsimonious behaviour last night as I had a design in my head and the PPs weren't complete sheets but I felt sure that I could manage anyway! In the end the red "Learn" PP is 3 separate pieces from one 12x8 piece and the "Inspire" PP is two pieces from a 12x9 sheet. Can you see the joins????
Here's what it looks like on the back:
The photos are ancient snaps from 1997; I was practising with face-paints in anticipation of a Mother & Toddler fund-raiser while we were staying with my father in Woking. I had to ask No.1 Son what the green face and the red mask represented because I couldn't remember ~ apparently he was a Teenage Mutant Ninja Turtle, which also explains the stance: that's not a salute, it's a martial arts pose!
The LO also has another example of chipboard decorating ready for the Pink Booby Charity Crop - I'm nearly ready with the necessary photos for my instructions.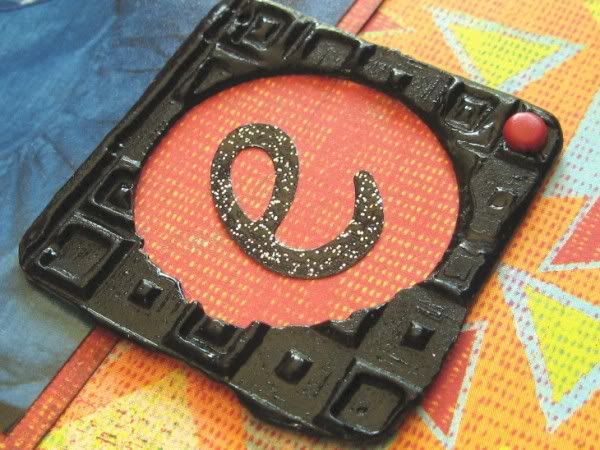 And
multi-tasking (as ever) the LO earns me some points on UKS as it fits in with last week's challenge and the framing was inspired by Lisa Saunder's recent CC class over on
The Studio
.