Last night I was working on this page about No. 2 Son's new glasses. It's based on this week's sketch (#222) over at
Pencil Lines
and was done for the UKS Weekly Challenge.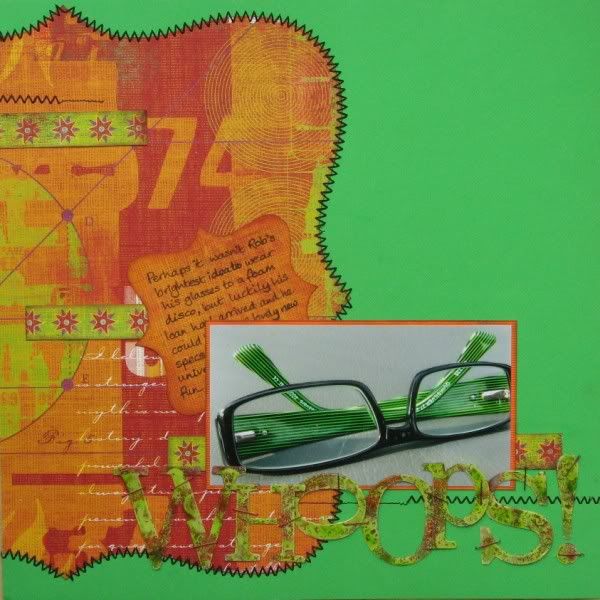 I'd chosen the photo, the patterned paper, the card, decided upon the shapes I wanted to use, the alphas, even the title. Almost 100% planned out, so I set to work and started cutting, sticking, painting and sewing. Then I realised I hadn't included any journalling ... whoops!!!! Nor did I have any more of the background card. What to do? In my slightly overtired state (the evening's wine had also taken its toll), I decided to gut the card that was behind the large piece of BG Discover paper. Not an easy task considering it was both glued and stitched down, but I managed it.
Fancy Pants clear alphas altered with
emulsion, 3D paint and Sharpies
I really shouldn't have bothered, because by the time I'd cut the card to shape and slotted it onto the front I decided that it was far too dark to write upon and rather too eye-watering on top of the patterned paper. So I did what I should have done in the first place, i.e. grab a scrap of something else to use - there were still plenty of pieces left in my "Colour Me Silly" collection.
The journalling records the reason No. 2 Son had to buy new specs during his first weeks at university: they didn't survive a trip to a foam disco! Whoops indeed!!