A scrappy friend of mine,
Natalie
(NJMax over on UKS) is just launching a challenge blog at the moment and has a blog hop this weekend ... why not check it out over at
Punky Scraps
. I shall be having a look around this evening once I've watched "Harry Hill's TV Burp", which is one of our favourite family shows on a Saturday evening.
Part of the requirements of Nat's blog hop is to link to your all time favourite layout ... now there's a conundrum!
Remember, we all stumble, every one of us.
That's why it's such a comfort to go hand in hand.
Emily Kimbrough
My first instinct was to choose a page that had been popular over on
UKS
because I do get a sense of affirmation when LOTS of other people also like my current favourite page. In which case I would have picked this one, made in 2007 for my Dutch friend who actually introduced me to scrapbooking.
It was inspired by a page called "Laugh" by
JoolsG
who seems to have moved over to digi-scrapping these days.
I loved my page because it was simple and clean, it used my friend's beautiful photo, it had a quote that was perfect and the title was also apposite! On top of all of that I had great fun making the title rub-ons myself using the
!Sketchy Times
font and special
Crafty Computer Paper
.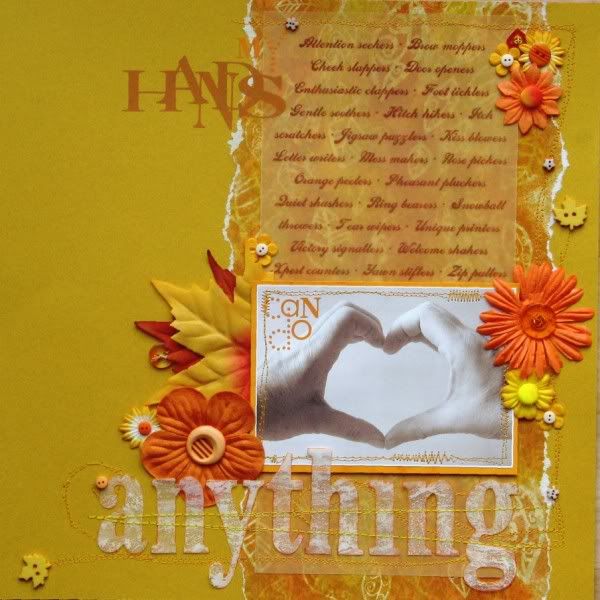 On the other hand, I wanted to choose a layout that I still owned, one that was my own design and contained more of
me!
In which case, it would probably have to be this one from 2009, which was made for a challenge over at Indigo Mill (I miss their shop).
I had fun thinking of an A-Z of what my hands can do; I took the photo of my hands myself, having mastered the self-timer; I included lots of sewing on the page and best of all, I managed to use up some un-loved peel-offs to transform some truly awful shiny paper into an interesting background.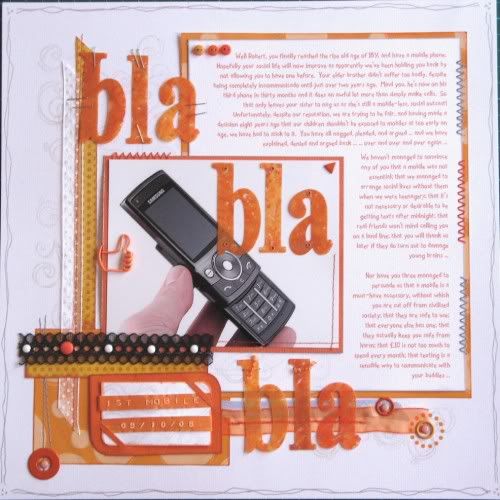 Looking at that page got me thinking about another page I did for an Indigo Mill Challenge - this one telling a story about my mobile phone battles with my kids.
The challenge had been to make a page without any adhesive at all. I had a lot of fun with staples, sewing, brads, grommlets, clips and even punches to affix the various elements to the page.
However the main reason that I love this page from 2008 is the journalling - it takes the form of a monologue addressed to my middle child who, like the others, had to wait until he was 16 before being able to have his own mobile phone. It lists the reasons why the kids wanted phones, and the reasons why I didn't want them to ... a piece of our family history!
Now, back to the conundrum I started with: my all time favourite layout.
On the one hand, I like the page about my hands. On the other hand I like the page about our mobile phone battles. But which one is best? According to Harry Hill, there's only one way to find out.
FIGHT!