Welcome to the final post of the August Counterfeit Kit Challenge Blog Members' Blog Hop (or CKCBMBH for short)! If you've been hopping along with other counterfeiters (and reached me from
Milissa
) then you will already know that we are sharing the inspiration we took from
geocaching
by using a hidden element
.
I love geocaching and recently managed to add a couple of Scandinavian holiday finds to my tally of caches. No holiday photos are printed yet, so I decided to use my
August Counterfeit Kit
for a layout with a hidden photo and some extra hidden journalling. (
Apologies for the crummy photos ... Child No.3 took MY camera on HER holiday and I'm struggling with the one she left behind
)
On the face of it a layout of 13 ladies celebrating the second anniversary of our scrapbook crop back in April.
Very prim and proper.
Except that prim and proper is
so
boring ... which meant we had to include a "silly" photo that was much more typical:
And if you flip the photo over there's some journalling as well as a list of everyone's names (given that I made a mistake writing them out when I
made
the page ... I will certainly be grateful for it in a few years once even more of my little grey cells have gone!).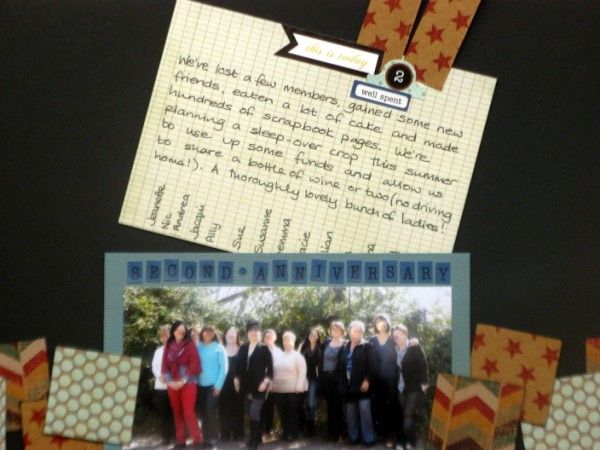 If you've missed anyone on the CKCBMBH you can find the full list over on the
Counterfeit Kit Challenge Blog
- why not join in yourself next month?!