Welcome to November's Counterfeit Kit Challenge Master Forger Blog Hop
With A Twist
: we're joined this month by members of
Scraptastic
who are sponsoring the hopping! Leave a comment or take part in one of our two monthly hops to be in with a chance of a prize! You may have joined me from
Helen's blog
in which case you are on track, but if not then you may want to pop back
here
to start at the beginning and see all the wonderful home-decor projects that have been created from this month's Counterfeit Kits.
I was so tempted to do something Christmassy as I have several projects in the pipeline, but I thought you might have overdosed by now ... plus the colours in my
November kit
didn't lend themselves to the forthcoming festivities at all!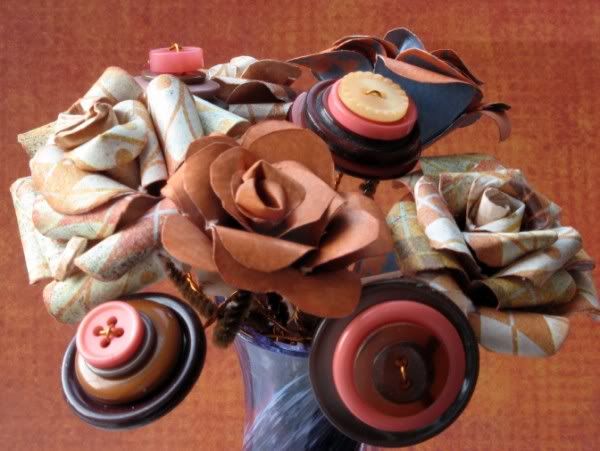 I spotted the clear instructions for this button and bloom bouquet over at
Truly Madly Crafty's Blog
although mine is much smaller than theirs as I was using scraps of paper from my kit (2½"-3" squares rather than 4"). The Basic Grey paper wasn't double-sided so I daubed over the back with some toning ink. I think I'll add to my bouquet whenever I have toning scraps.
Check out the
tutorial
- no special dies are required, though a pair of Tim Holtz super scissors came in very handy for cutting through 8 layers of paper!
Now please hop over to
Jen
who has also made something lovely for you ...