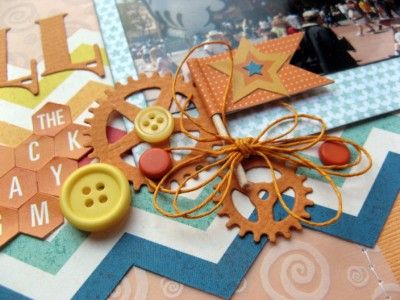 My lovely friend Julie (aka
JSquared
) is celebrating her 2nd Blogiversary today and is marking it with a Pass the Page. She collected a baker's dozen of us together to each scraplift a page in turn. The person before me in the chain was my very good friend
Ruth
(if she sent you here then you're on track, if not, you might like to start at the beginning with Julie
here
). Ruth is currently scrapping photos from her visit to the Harry Potter Studios so it seemed extra appropriate for me to use her page as inspiration for a photo of another magical place (as well a gears & cogs cut from her dies at our Bloggers' Retreat).
Journalling on the "this is life" tag tells the story of how our early morning plans to ride the Tower of Terror resulted in Child No.3 feeling violently "unwell" at MGM Studios. Luckily, Disney have a great health centre and she was able to recover there for a couple of hours in a darkened room with me while the men-folk carried on enjoying the rides. By mid-day she had recovered and was adamant that the
Ice Cream Social
at Epcot was next on the agenda!! The back of the tag has photo-proof that a couple of hours sick bay sleep worked their magic and Child No.3 was back to "normal"!
Can you see the resemblance to Ruths's page? I kept the large single photo, corner embellishments and the horizontal strip. I replaced the subtle checked paper with vellum and switched the journalling for my title. All supplies are from my
March Counterfeit Kit
.
I wonder what elements were kept or discarded when
Kirsty
scraplifted
my
page? Before you pop over to see, you should know that there is a prize available on this Pass the Page hop, all you have to do is comment (here, there and everywhere)!