This is my 21st Counterfeit Kit.
The downside of buying a bargain bag-FULL of teal flower buttons is that they take
ages
to use up!
This month's guest Forger at the
CKCB
is the lovely
Kate Blue
.
I've run out of photos to print and scrap.
My craft room is a terrible mess after sorting my kit.
3 weeks ago my
55 bags
project stalled - oops!
In the spirit of
All Fool's Day
, one of these statements isn't quite true ... :-)
Welcome to April's CKCB Master Forger Blog Hop, which started with
Queen Kat
and brought you to me via
Angela
. Our kit to copy this month was
Gossamer Blue's March Kit
.
As is often the case I didn't have
any
of the exact supplies and this month I decided I would start my counterfeiting by copying the cardstock colours and see what happened.
There's lots of new stash from a recent win from Echo Park's Blog Hop as well as older supplies and scraps; plus this month I have included some stamps as I really must use them more often.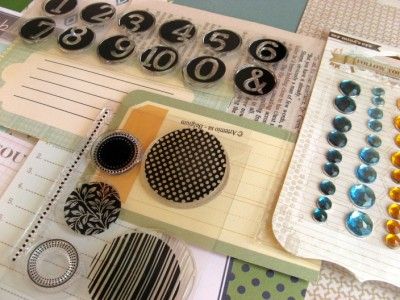 Supplies:
Blue, yellow, cream and green Bazzill cardstock
EP's For the Record 2 Fancy (blue trellis reverse)
½ sheet MME's On The Bright Side Branches (orange & white stems reverse)
Near & Dear Cameron by Dream Street Papers
EP's For The Record 2 Diamonds (blue arches reverse)
½ sheet teal Kraft-core cardstock
EP's For the Record 2 Chevrons (blue chevrons reverse)
½ sheet Flutter Butter Burst by Bo Bunny (brown circle reverse)
EP's For The Record 2 Element & Alpha sticker sheets
Various journalling spots from my stash
Elle's Studio Number It stamps
Artemio circle stamps
Old book pages
MME Follow Your Heart Be Amazing Rhinestones
Chipboard circles and buttons from my stash
Now it's time to hop over to
Jennifer
who launched her new blog yesterday - and while you're there, take a look at the launch post
here
where she's got an awesome give-away!
If you get lost on the hop today, the full list is available on the CKCB
here
.