Welcome to the start of September's Members' Blog Hop from the Counterfeit Kit Challenge Blog. The main challenge this month was to dust off a U.F.O. (
U
n-
F
inished
O
bject) and get creative with it.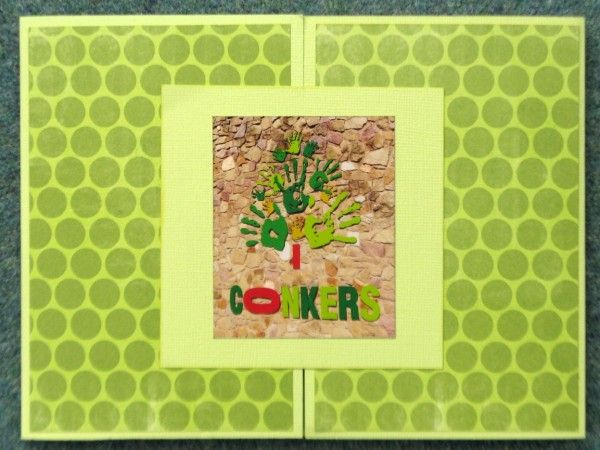 Each year I go away with UKS friends for a weekend of scrapping. It's a no frills budget retreat with lots of scrapping room, great company and a few classes and challenges provided by some creative souls. Last year my friend Claire showed us how to make a mini-book based on two tri-fold cards and I got as far as preparing the cardstock base. In less than three weeks I'll be joining my friends again and I thought I had better complete my mini-book before this year's challenges are revealed!

The photos are from a lovely day out at
Conkers
in the National Forest ... from 2007 (when No.2 Son had longer hair and shorter legs than I did).
By pure fluke, the bright cheery colours in my
September Counterfeit kit
were a perfect match for the bright green cardstock that I'd folded and scored to make the mini-book pages last October.
There were far too many photos for just one side of the mini-book though ... so I flipped it and covered most of the reverse as well.
The front flap closes with a mini magnet, rather than the ribbon Claire used in her instructions. Unfortunately she doesn't have a blog, so I cannot credit her properly, but there are plenty of tutorials out there for tri-fold cards - just join two together and get folding! Here is
a link with a template for the tri-fold card
if you fancy a go.
The next stop on the forgery trail is
Lesley
, but if you get lost along the way, the full blog hop order is published on the
Counterfeit Kit Challenge Blog
today. Have fun!