As promised, part two of my attempt to complete
Rinda's Summer 2013 Scavenger Hunt
whilst on holiday in Scandinavia. This summer I was attending a reunion with friends and colleagues from my first job abroad in Västerås, Sweden. To make it more interesting for Hubby we combined it with a road trip from Copenhagen (see
my earlier post
) to Stockholm for our first holiday without children for many a year. We travelled from Denmark to Sweden across the Øresund Bridge by bus (only 50SEK each) and grabbed an
Earthcache
before collecting our hire car in Malmö and driving northwest across Sweden. Along the way we spotted a traditional windmill ... and a modern one:
#16 - A Windmill
We stopped overnight in Jönköping. Why there? Because I remembered it from geography lessons when I was about 13/14: we learnt that this was the centre of the matchstick universe! The matchstick museum there was absolutely brilliant - with a lovely mosaic pattern outside and fascinating machines, artefacts and art pieces inside:
#14 - A Mosaic
On the way there we spotted some doubtful advertising :-)
#7 - A Funny Sign
All too soon it was time to drive on towards my old stomping ground. I took Hubby to
Anundshög
, an ancient site just outside Västerås where we admired some ancient stone ships and spotted a seahorse:
| | |
| --- | --- |
| | |
| | #12 - A Cloud In The Shape Of ... |
Västerås hadn't altered
too
much in the last thirty years: yes, there were new office blocks, larger suburbs and the names on some of the shops had changed, but much of the centre was just the same, including the Town Hall:
#2 - Västerås Town Hall
I have no recollection of the theatre standing opposite, but then I was rather more interested in films than plays in my twenties.
#2 - A Theatre
The next day saw a visit to the local
Open Air Museum at Välby
(completely FREE!) to give Hubby a taste of Swedish historical buildings. They had plenty of fences:
| | |
| --- | --- |
| | |
| #13 - A Fence | ... and another one |
After a very enjoyable morning, admiring the gardens, buildings, furniture and tools along with interesting explanations from the costumed guides, we set of for the reunion itself. Our accommodation could easily have been on display at Välby - we stayed in loft bedrooms above a museum room and the communal kitchen was an old soldier's house - with little benches by the front door:
#10 - An Outside Bench
The reunion took place at Sandvik Music Festival, right on Lockvattnet lake where we saw some glorious sunsets and an amazing thunderstorm:
#5 - A Sunset
The festival bar was very relaxed:
#18 - Our "Local" Bar
And we didn't feel
too
old and out of place amongst the younger music lovers:
Though some of us couldn't take the late nights and early alcohol: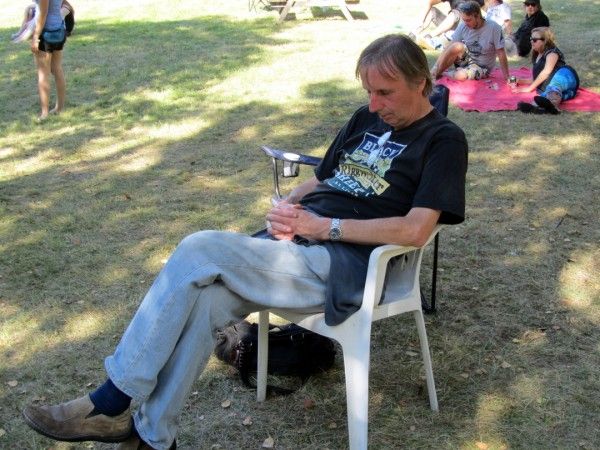 #6 - A Napper
After a happy weekend in good company we headed off for a couple of days in Stockholm to round off the trip.
Skansen
scored us loads of animals (and more historical architecture) but the highlight amongst elks, reindeer, and brown bears were the baby lynxes (lynx?) playing on the rocks of their enclosure: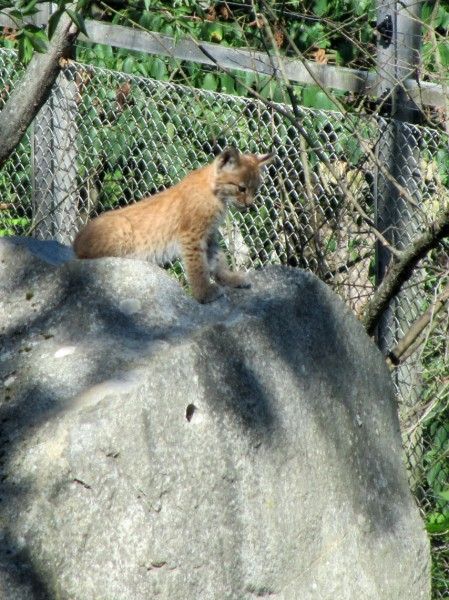 #11 - An Animal In A Zoo
Sergel's Torget was inaccesible due to roadworks and renovations (a shame as this iconic attraction is beautifully illuminated at night) but a nearby statue was well protected :-)
| | |
| --- | --- |
| | |
| #8 - A Tower | #9 - Something Out Of Place |
The Stockholm metro yielded more mosaics and other decorations:
#14 - Another Mosaic
Despite travelling through two capital ports, across a sea bridge and past dozens of lakes, the ONE item I had yet to find was a fisherman. Then I spotted this and just about gave up:
NOT A Fisherman In Sight :-(
So it was back to the airport to spot a final plane:
#4 - An Aeroplane
Killing time in the airport shops, I was overjoyed to complete my hunt with an appropriate: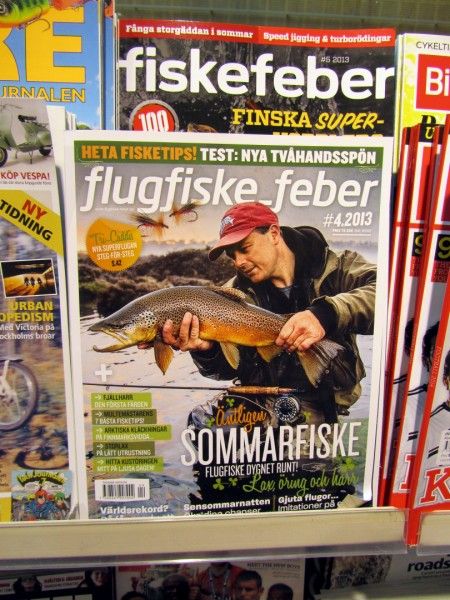 #19 - A FLY Fisherman
Many thanks to
Rinda
for adding some extra fun to our Scandinavian adventures with the
Summer 2013 Scavenger Hunt
. Now to complete my English hunt before September 21st!