This month's blog hop over at the Counterfit Kit Challenge Blog is all about taking inspiration from one of the Master Forgers' blogs. In other words scraplifting from one of the CKCB DT's blogs. If you've joined me from
Shazi's blog
- you're on track. If you've just happend by you can find the start of the hop
here
.
I had a good look around the Master Forgers' blogs earlier in the month and found LOTS of inspiration, but in the end I settled for a page from Gabrielle's blog from last year. I love the stitched background, the playful leaves, so perfect for her photos and the colourful strips of patterned paper with more stitching. Gorgeous!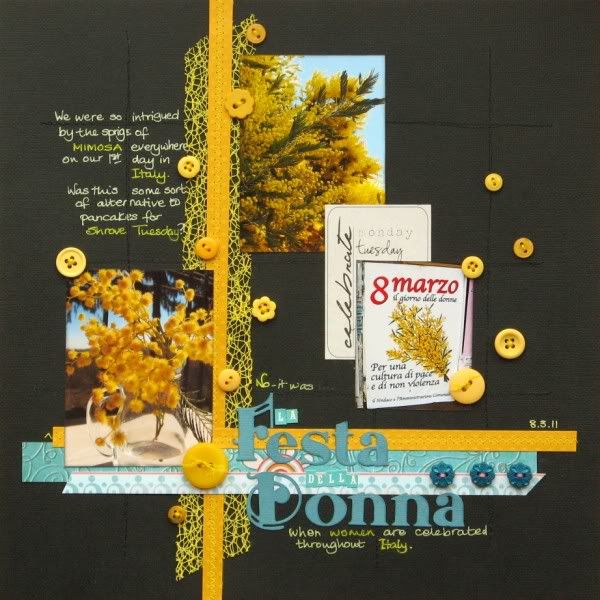 I have a stack of photos from my recent trip to Italy where it wasn't the leaves that were catching my eye but the Mimosa trees. Vibrant sunny yellow balls contrasting against the dark leaves and the clear blue skies. On our first day in Italy there were sprigs of Mimosa everywhere - in vases on cafe tables, in children's hands, in shop windows - we had no idea why. We knew that back in the UK it was Pancake Day - perhaps this was the Italian way of celebrating Shrove Tuesday?
No! It turned out that this was not only the last day of Carnivale, but it coincided with La Festa Della Donna - Women's Day (and the 100th one at that!).
Everything except the yellow lacy trim and the journalling spot is from my
April Counterfeit Kit
. The journalling was written directly onto my background cardstock with a white gel pen which I then coloured in with two shades of yellow pen. The title alphas are cut with Broadway Melody Sizzlits.
The page also tied in with a weekly challenge a few weeks ago over on UKS ... scrapping a celebration, flowers and blue!
Thank you Gabrielle for helping inspire my page. If you want to see another forger's forgery please hop over to
Margie's
to see what inspiration she has selected! Thanks for stopping by.