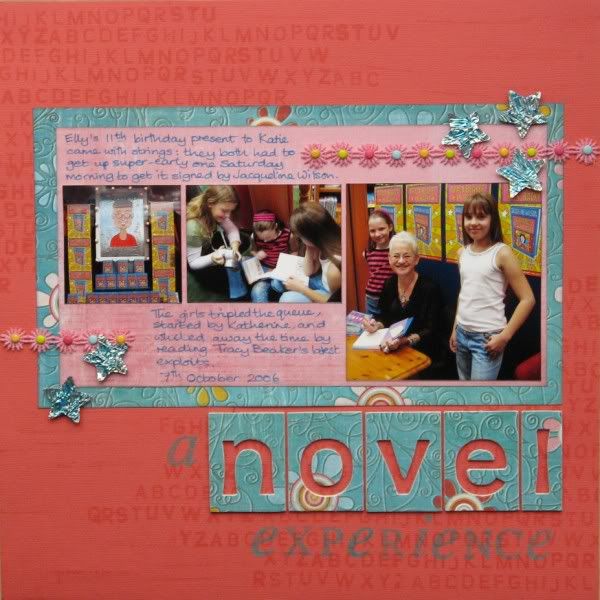 Here's the latest page from my
April Counterfeit Kit
which was done for the Monthly Challenge over on UKScrappers. I also took inspiration from
this post
on the Banana Frog Blog - it's a great place for ideas for stamping (I have a few of their stamp sets :P) and added interest to my background cardstock by laying out my Tiny Teen clear alpha stamps on an acrylic block and stamping parts of the alphabet. I used Versamark ink which just "watermarks" the cardstock - darkening light card and lightening dark but not altering the colour tone!
The title was done with Scenic Route chipboard alphas from the kit and Willing Race stamps (also from Banana Frog).
The page is about when I took No.3 child and her best friend to a booksigning by their favourite author - Jacqueline Wilson. We beat the queues by getting there
very
early, but they'd read half the book before it was time to meet her!
I did have to add to my kit for this page - part of the challenge was to alter an item ... I altered a Mince Pie case left over from Christmas by punching out stars from it and adding colour with a Sharpie pen.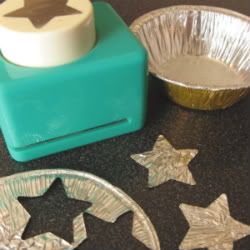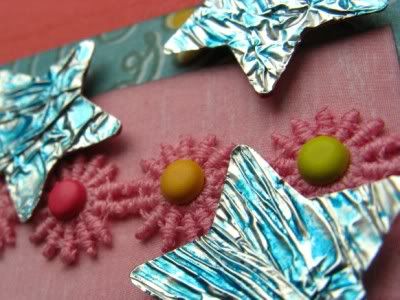 This was a first for me - I'd saved the cases for mixing paints or holding PVA glue - but I loved the texture once I'd flattened one. I'm hoping this will also have sharpened up the punch a little too :o)