Last month Alexa posted
a very funny description
of preparing for a crop which reminded me of my own pathetic attempts at getting ready to make the most of some creative "me" time.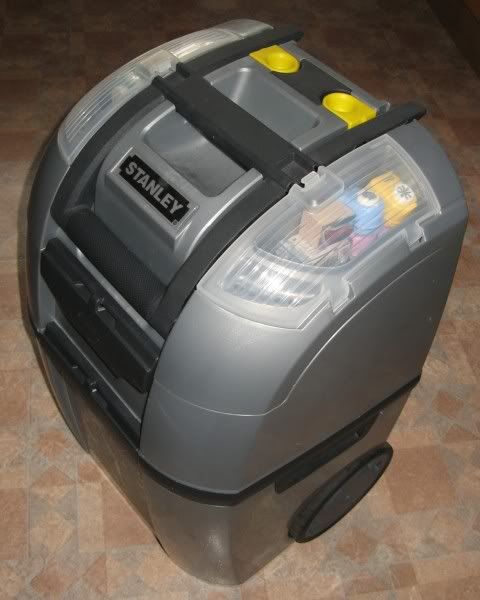 My cheap & cheerful rolling tote
For my very first crop I forgot to take anything to cut paper with - no scissors, no craft knife, no trimmer - tricky! Not the best impression to make on people I'd never met before - luckily my fellow croppers were better prepared and willing to share.
A couple of months later I forgot to take a cutting mat - when I got home it was still waiting by the back door. Now I have a small A4 mat permanently tucked into the back of my Stanley Robox - it's kinder on the crop tables!
One time I arranged to meet up with some UKS friends at a fantastic all-day crop about an hour's drive from home. No lunch! Luckily there was plenty of cake ... I was slightly hyper on the drive home, not to mention several pounds heavier!
I love joining in with sketch challenges and will prepare papers and photos ready for crops - great unless you forget to print the sketch too - thankfully one or two of my fellow croppers have phones that do more than make calls and will look the sketches up on the internet for me.
The ultimate fail, as far as cropping forgetfulness goes, has to be the time when I had gathered specific supplies, including paper, card, embellishments, ribbon, ready trimmed photos, sketches ... everything I could possibly need for a whole series of pages ... this was going to be a super creative day. The fly in the ointment? I left ALL my photos behind. Every one! Luckily Hubby was home and was able to tell me the dimensions of each photo; I used scraps of card as temporary place-holders and substituted them with the pics on my return home!
The first meeting of a crop that I helped to set up at the beginning of the month.
For once I remembered everything, including the brownies and shortbread!
Do you crop with friends? How do you remember not to forget stuff? All hints and tips gratefully received!