Yesterday morning there was
an announcement
on UKScrappers that the Scrap Factor judges were shaking things up: a few entrants in the "Paper" category were being asked if they'd consider switching to "Hybrid" and that one or more of those asked
might
, just might, make it into the final 15 contestants!
I entered the "Paper" category - I consider myself to be a paper scrapper. But then what exactly is "Hybrid" scrapping? According to
Wikipedia
we're talking about a digital page, with some ribbons, brads and tags stuck on after printing it out. That's not me at all. However the judges over at UKS have decreed it to be any combination of digital and paper elements resulting in a page you can
hold
and as long as there is at least
ONE
item (other than journalling or a plain photo) that started life on the computer it will count as "Hybrid". I can live with that. I sometimes print out a journalling spot to use, or type (white) text onto a photo before printing it out, or use a dingbat font to add flowers to a page ... So maybe I can be a "Hybrid" scrapper too.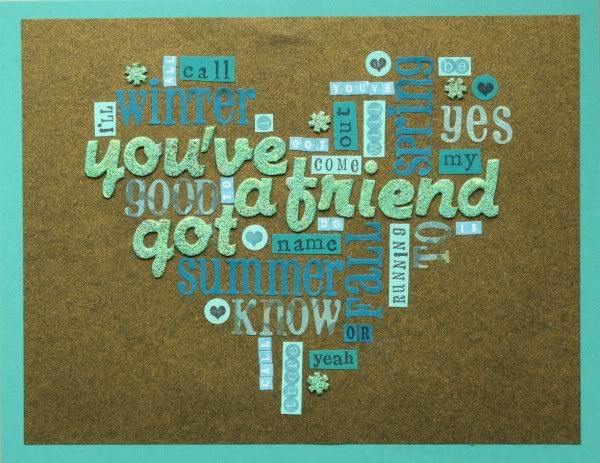 Some of the words to my favourite song by James Taylor "You've Got A Friend"
Page layout inspired by Tagxedo.com
This is one of my paper audition pages - the "No Photo" page - it could just have easily been hybrid - in fact it would have been a darn sight easier to do as a hybrid! Anyway, enough embarrassed, typically British, beating around the bush ... I was asked if I'd consider switching categories, I said "Yes" and I am so
H
A
P
P
Y
to share that I made the final cut! Now comes the scary bit - scrapping, speedily to order!!!!
Oh and the voting ... arghhhh!
Although the finalists for the Scrap Factor have now been announced, anyone and
every
one is welcome to play along with the weekly challenges. There are extra prizes on offer too! Just check out the challenge, choose a category to scrap in ("Digi", "Paper" or "Hybrid") and upload to the special galleries to be in with a chance of being picked by one of the judges!
The challenge for Week 1 of the Scrap Factor is
here
- do come and keep me company!