Are you joining me with
Counterfeiting Kits
this month? I've made a start at using my
April Kit
- two pages to share and another that is 90% complete, plus ideas for a few in the pipeline. It turns out I don't really mind using pink that much - as long as I can tone it down a LOT ...
and
I've used hearts too!!!
My first page features my Mum's dog Ebony who was pretty miserable the day after an operation.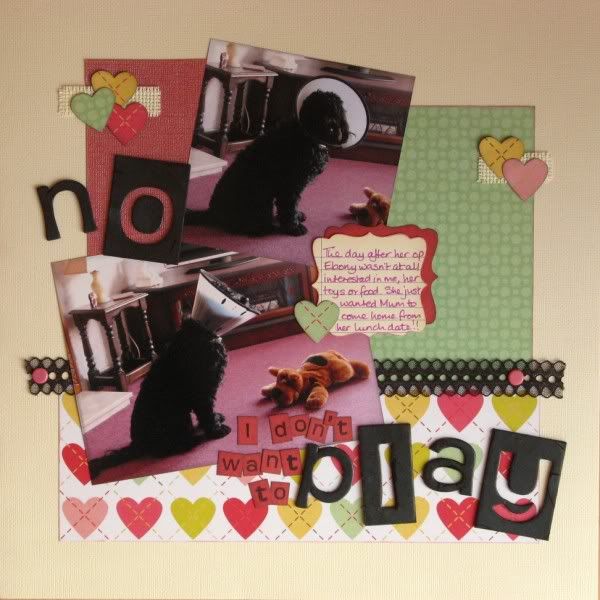 I've used just one of my kit's double sided sheets of paper for this page - but did add some brads and substitute some pinky Coredinations cardstock as it matched the carpet colour better than the card in my kit - especially as I could turn it over and stamp on the back with my Banana Frog Tiny Teen stamps! These matched the Scenic Route chipboard alphas pretty well - they started life as cream/beige and were inked with black Stazon to provide contrast and match Ebony's fur. Thankfully she was fine after a couple of days of TLC.
My 2nd Counterfeit Page avoids pink completely and uses a photo from last year's Red Sea holiday. I was also joining in with a challenge on UKS to include a lyric from a song as my title and had a couple of photos of an egret to scrap. I was tempted by "
Egrets, I've seen a few, but then again too few to mention ...
" but you were spared this when, thanks to
Songlyrics.com
, I found that Collapsis (?) had the perfect lyric: "
... an egret by the shoreline
".
The round rosettes are made from my kit's Scraperdashery paper with a Martha Stewart Arched Lattice punch using a
fab tutorial
by my friend Siân over on the Gotta Craft Blog.
More pages to come ... watch this space!
P.S. An update on the
clean and sparkly mobile phone
... it worked for about 10 minutes after drying out, but won't recharge ... an expensive mistake for No.1 Son, especially as my spare phone isn't anywhere near cool enough to borrow!