Welcome to my little corner of
Jennifer's Frosty Festivities Blog Hop
. If you've come to me from
Jacky
then you'll already know all about the great prize on offer, but if not, there are details at the bottom of this post.
It's getting colder and colder here in the UK and with the nights drawing in it's harder to get out for a healthy and invigorating weekend walk with the family. But we do our best and if there's something yummy to come home to, like a steaming cup of hot chocolate or a tasty treat, there are fewer complaints as we set out! With Christmas approaching, the next baking session is likely to include some mincemeat (the sweet kind full of raisins, sultanas, cherries and maybe a little brandy) but rather than traditional mince pies, my family is very keen on mincemeat muffins.
I discovered the recipe in January 2011 when I was looking for ways to use up left-over mincemeat after Christmas. This festive treat is from
Debbie Nicholas at Country Heart & Home
and provides a welcome change from more traditional mince pies and Christmas cake.
We're not great lovers of cupcake frosting here, so our version harks back to Debbie's
original
from 2009: topping the muffin mixture with cinammon and chopped glace cherries and omitting the frosting. In an effort to further cut down the calories, we make them in
mini
-muffin cases. These photos were from a massive baking session for a family buffet ... 60 mouthfuls of festive heaven.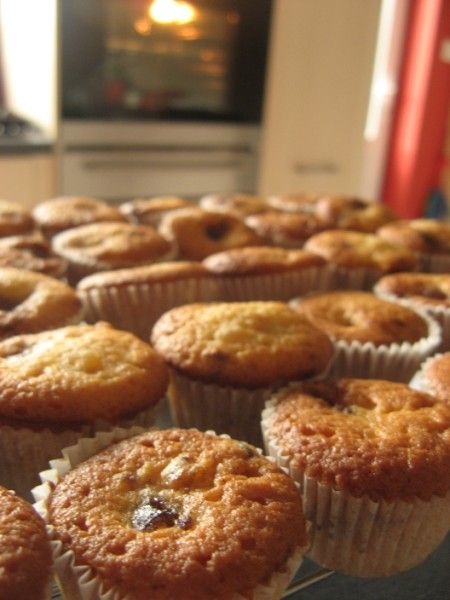 Yum!
Debbie has just produced a book full of clever recipes (including "Christmas Muffins") with lots of gift-wrapping ideas to make wonderful presents ... "
Gifts From Your Kitchen"
... perfect for a crafty friend on your Xmas list, or great inspiration for yourself if you like the idea of a home-made Christmas. It's currently half-price on
Amazon
too!
Click on the pic for a closer view
Do you
make
bake gifts at Christmas?
What's your favourite treat after a chilly winter walk?
Don't forget, if you comment on all the blogs listed in the
Frosty Festivities Blog Hop
, ending up with a comment to let Jennifer know you've been all the way around, then you'll be in with a chance to win a spectacular seasonal prize of Basic Grey
Aspen Frost
and Carta Bella
Winter Fun
items, worth over £25! Comments must be made by 10.59pm GMT on Monday November 19th.
Your next hop stop is
Jenny
- have fun :o)