As children we don't always think about our parents as real people - they provide & protect, comfort & cajole. Their lives surely revolve around us: we are the centre of their world :o)
Eventually as we get older, realisation dawns that our parents were alive. Just like us, they studied, travelled and partied; they were not always so staid, so stay-at-home; they might even have a tale or two to tell.
Those two paragraphs are written on one side of a tag on this page in my Book Of Me - an 11.5"x8" album that contains pages about me and my past. On the other side of the tag is one such tale, about my fancy dress exploits in Sweden, prompted by the photos which recently surfaced on Facebook!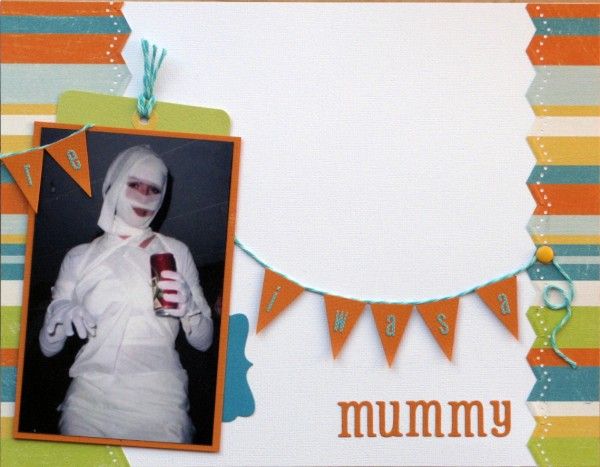 Drinking in Swedish pubs was shockingly expensive so it was perfectly normal to have a few liquor-store-bought drinks at home with friends before hitting the town. The prices encouraged us to host and attend parties most weekends and these were often themed to spice them up. Here we are, a mix of Brits and Swedes in the lads' house in Bjurhovda in 1982. I can remember thinking that Karin's carrot outfit (an orange sheet and a plastic fern) was simply inspired, whereas my bandages kept slipping and gradually revealed more and more as the night progressed!
Fun times :o)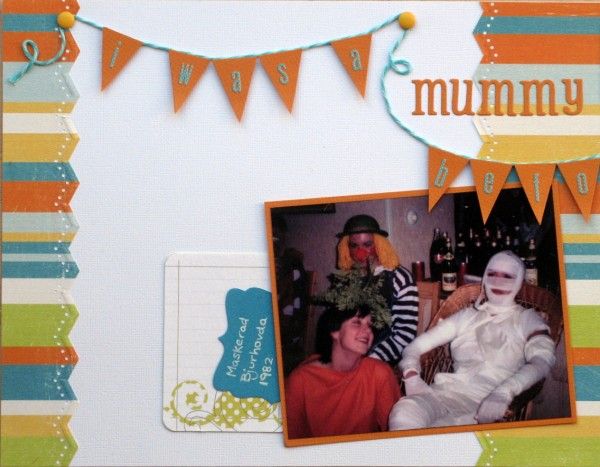 The photos and story were committed to paper (made with the remains of my
October Counterfeit Kit
) thanks to inspiration from the
UKScrappers Cybercrop
- just about finished now - though there are some "use your left-overs" classes to come today. And this
post
is part of Siân's Storytelling Sundays - there will be lots more Sunday stories
here
(all comers welcome)!