Today you also get to see how the Master Forgers have taken inspiration from the Kit-To-Copy by hopping around their blogs, starting
here
with our Guest Designer
Madeleine Lopez
and, if you're following in order, then you will have reached me from
Angela at Toucanscraps
.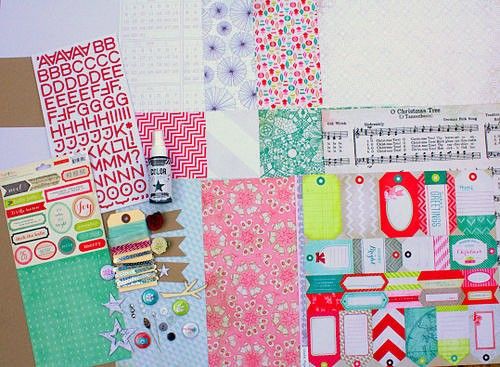 January's Kit-To-Copy is from Paper Issues: the Merry Winter December Kit sold over on
Etsy
.
At first glance lots of white, teal and pink, chevrons, winter patterns, labels and trim.
Now I don't generally do a lot of Christmas pages, and we haven't had any snow this year so I knew I didn't want to put a lot of festive papers into my kit and needed to focus on patterns and colours rather than the theme.
So I picked out the chevrons, some music paper, some wintry patterns and grabbed some journalling cards, mini-alphas and ribbons. It was all looking rather blue & green as you can see:
Five of the six papers were double sided so I flipped them to see what was on the back ... added a couple of half-sheets of warmer colours and grabbed some more journalling spots to match. I reckon this kit should be pretty versatile now.
Supplies:
Echo Park Neighbourhood and Diagonal Shot from the So Happy Together collection
American Traditional Designs Snow Day Earthtones
My Mind's Eye Follow Your Heart Be Amazing Geo Star
Kaisercraft Silly Season Candy Cane
American Crafts Neapolitan Heart Song
Dizzy Lizzy and Strawberry Pop from Pink Martini's Orange Creamsicle collection (with more flowers and stripes on their reverse sides)
Various trims from my stash
Cratepaper, Adornit & Kaisercraft alpha stickers
Lots of Kaisercraft Silly Season journalling spots and jewels
Various tags left over from previous kits
Some FREE
hybrid library cards
by Shimelle at Two Peas - I may reprint these onto white cardstock as they look very creamy compared to the papers in these photos.
My take on the original kit's button badges are simply ancient Papermania acrylic dome stickers stuck onto patterned paper and die-cut stickers ... I'm waiting to see if there are some better counterfeiting tips shared in the next couple of days ... I'm sad to say that my experiments with paper covered buttons haven't worked out too well!
In the meantime, please join me over at another new Master Forger's blog:
Jennifer's Jumbles
and see what she has put together for this month.
ETA
P.S. Paper Issues have a generous discount code and are sponsoring a prize this month ... all you have to do is go here and join in!