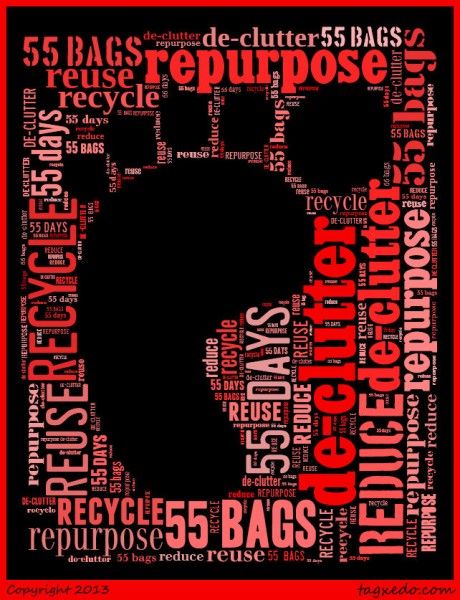 Three weeks down - approximately eight to go - with my de-cluttering for 2013. That's two whole weeks more effort than 2012! While I'm still on schedule (17 down 38 left), the number of bags has reduced each week ... I think being ruthless is wearing off!
I had more support and funny comments from you guys last week , including
Missus Wookie
who reckoned her friends were de-cluttering by sending their offspring to her house!
And do you remember
Ladykis
who was determined
not
to de-clutter, leaving her children with plenty to sort out once she was dead and gone? Well she relented a little and managed to give her boys a taste of things to come:
I was inspired by your determination and "did" the cutlery drawer. I then shared out the - wait for it - 59 medicine spoons. No wonder there was a fountain of plastic every time Mr M opened the thing. My two sons will be getting a very strange packet in the post in a day or two - a brief note that says "this is your share of the cutlery drawer booty, love Mum" and some plastic spoons. Wicked? Me? you betcha!
I think our medicine spoon stash was dealt with in 2012 and we have since taken care to avoid storing them in pairs to stop them breeding.
So, what did I manage this week? I know you are agog to hear about the contents of two of my bedroom drawers! One was relieved of three unused sets of diary pages (2007/8/9), some out of date and unused tablets and several empty ring boxes plus
four
pairs of spectacles that went back to Specsavers for their charity bin. The other no longer contains several old hair-driers, a broken in two hairbrush, a number of un-wanted gifts (I hope Auntie M doesn't read my blog) and some left over Christmas gifts from when I was training to be a primary school teacher and needed 30+ presents for my Year 5 class! All bagged up now.
My utility room cupboards revealed that I never need to buy another bottle of Flash again ... ever! If money gets short I may open a shop selling Flash myself! I did dispose of four yucky sponges and consolidated several part used containers of detergents. This week's biggest surprises were two bottles of orchid food and one of ceramic hob cleaner - we don't have any orchids and we have had a
gas
hob for over two years now!!! Out! Out! Out!
My family are impressed with my dedication so far, but not enough to join in (yet)! I think the biggest problem is that not everything has a place to be put back in. Next week's motto will have to be "
Put it away or throw it away
". How are you doing?