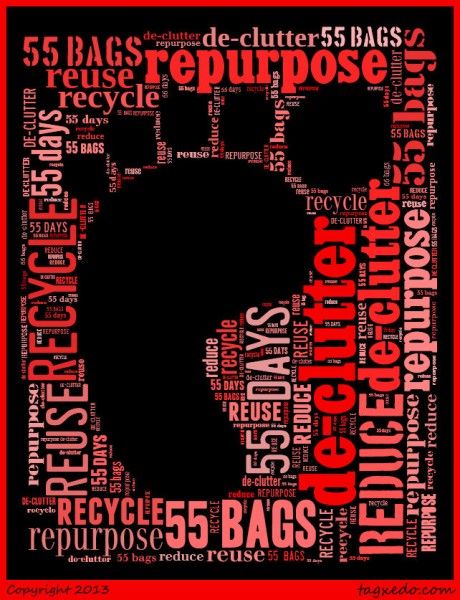 Somewhere in my recent surfing I came across the idea of de-cluttering using 40 bags for Lent's 40 days. Filling a bag each week day with rubbish/recycling/stuff-to-freecycle/sell is a great idea for steady, bite-sized clearing that would culminate in a clutter-free Easter. Every year I resolve to make a start with de-cluttering but lose steam/enthusiasm after about a week and the clutter starts building up again.
It never hurts to try again though, so I thought I'd give this a go
NOW
without waiting for Lent which is only an excuse for pancakes for us! I started making my list (OK I admit it, my spreadsheet) of 40 locations (drawers, shelves, cupboards, surfaces etc) that need a purge and a clean ... and erm ... discovered that 40 locations doesn't even begin to cut it in our house!!! So I settled for 55 locations (excluding kids' rooms and Hubby's side of the bedroom) to fill the weekdays in the eleven weeks until Easter, and got cracking.
First off, rather than just taking down our Christmas decorations and putting them straight back into the loft for next year, I purged the stringy tinsel, wrong-colour baubles, faded candles, dated garlands, bent fairies (!) and unwanted mini-trees. Score 1 bag for the local charity shop and 1 bag for the bin!
Another day's effort involved a 3 drawer chest in our hallway: filled with junk plus a much-used dumping ground by the front door/at the foot of the stairs, covered in books, homework, pens, catalogues, laundry etc etc etc ... too shameful to take a "before" photograph ... but an hour's work resulted in a stack of 16 airline headsets, 2 phones, 1 answer-phone, 3 walkie-talkies, 2 walkmans, 1 broken-in-two-but-somehow-still-working-calculator, 1 picture in frame and a ceramic oil burner all for the bin/charity shop! The drawers are still full of games and jigsaws but the surface is now completely clear - and, more importantly, is
staying
clear!
I won't bore you with ALL the details, but it's already been a week and I have tackled at least one drawer or cupboard or shelf every day (I need to get ahead with my bag count as I know I'll be away for some of the time before Easter). Some locations don't result in much of a throw-out but get a good clean instead. So far I've made up for that with shredding old paperwork or recycling Christmas cards or sorting through some scrapbooking stash.
By posting today I'm hoping that you will keep me accountable and that my target of 55 bags is achieved. Wish me luck!