Welcome to the first outing of the re-introduced
Counterfeit Kit Challenge Blog Members' Blog Hop
. I am so happy that we've brought it back; it was how I first got involved with the CKCB and it's such fun to see lots of new blogs and get lots of new visitors.
I'm hop#1 today (the whole list is published
today on the CKCB
) and the main subject of the hop is our takes on
the first CKCB challenge
for January which was all about the number THREE: use
three
papers, a
three
word title and
three
embellies.
I had a go at this challenge at the beginning of the month using my
November Counterfeit Kit
, and today I have my
January Kit
version. I've used
three
photos but I promise that was chance rather than more OCD tendencies surfacing LOL! Now that I look at the page I am
SO
amazed to see that the diagonal stripes on the right hand strips actually match perfectly - also entirely by chance!!! Rather than include a block of my 3rd patterned paper I used it to cut my title from (using Blossom & Man Oh Man dies).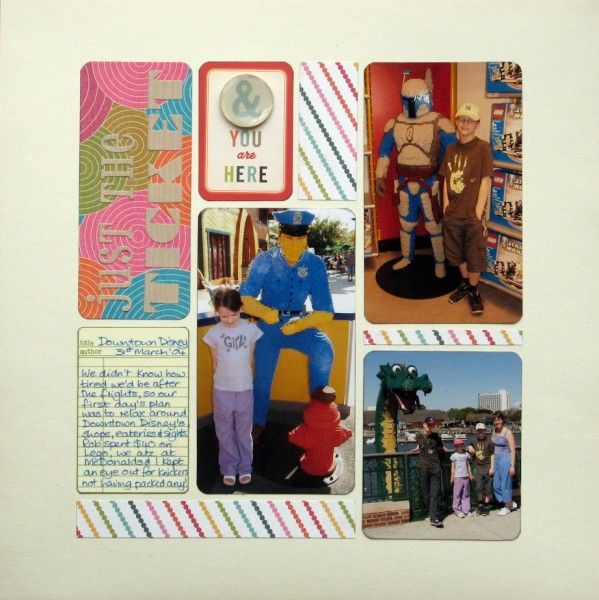 Can you read the journalling? It tells of our first lazy day at Downtown Disney in 2004, mooching around recovering from the flights from the UK ... and how I was keeping an eye out for shops selling knickers as I'd been so busy packing for the family that I'd left home without doing mine properly! Needless to say Downtown Disney was
not
the place to go to replenish your underwear!
While you're here you might be interested in a book "passing" that is up for grabs on
an earlier post
, but if not, your
next
stop on the CKCBMBH (!) is
Lesley
who has already produced several lovely pages from her kit and will no doubt have something gorgeous to share today.