What better way to celebrate my 300th post than with a Giveaway? A very late Giveaway, I'm ashamed to say ... as it's actually really just me passing on a "Pass The Book" book!
Alison
in Spain kindly drew me when she was passing it on back in September? so it has been with me far too long, thanks in part to Christmas. Apologies to
Melissa
in Texas who is hosting this arm of "Pass The Book", hopefully the next person in the chain won't be as big a procrastinator as me. Anyone without a clue what "Pass The Book" is, please
check it out here
. If you would like to be in with a chance of having
temporary
ownership of the book, please add a comment indicating that you'd like to be in the draw (
and promising not to keep it as long as I did before passing it on to someone else
).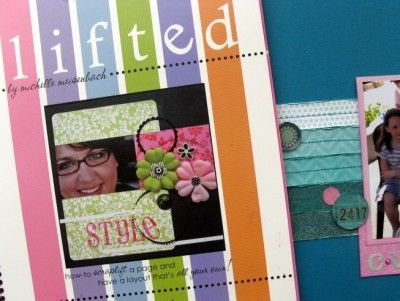 The book is "
Lifted
" by Michelle Miesenbach and is chock full of lovely pages to scraplift. Michelle and her team of designers have then taken various elements (colours, embellies, title, format, subject) from the example pages to produce new ones - you can see where the inspiration has been drawn, yet each finished page is totally new - my kind of scraplifting! Six chapters deal with each aspect of partial and full scraplifting and I particularly like the chapter on title-lifting as I'm a sucker for typography as well as wanting to
steal
lift other people's great page headers. The only possible proviso with this book's appeal is that the pages are perhaps
slightly
dated: the book was published in 2008. However, as I'm sick to death of seeing trendy ink splatters and tiny instagrammed photos all over the web, I really loved the book's clean graphic style. Even if you are a fan of modern trends I reckon the book will still have plenty of lift-able ideas to offer.
We all know that trends come and trends go ... and return again ... so before too long eyelets will be making a BIG comeback ... and when they do, I'll be ready, Silent Setter in hand!
I have made a page using a couple of ideas I lifted from the book: spacing a title out with dots between the letters (p93) and cutting up patterned papers into strips and putting them back together (p29).
The page design is from a sketch posted on
UKScrappers' Weekly Challenge
and the choice of papers is inspired by the "Ombre" challenge over at the
Counterfeit Kit Challenge Blog
. I inked two of the strips to add to the range of colour graduation and used the counterfeited Flair Buttons that were in my
January Counterfeit Kit
.
You can't see it too well in the photos but I also added increasingly dense (over-) stitching on each row and inked the lower part of the pink photo mat more heavily than the top.
Do you like to scraplift? Are you interested in passing this book? Let me know and I'll make the draw next Monday (28th).
P.S. "Pass The Book" is international - happy to post world-wide!