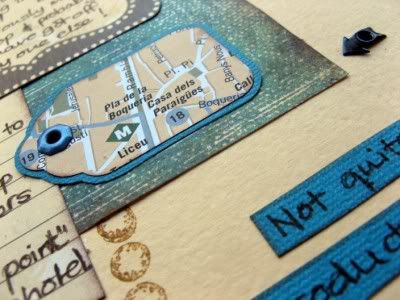 Sometimes there just isn't a photo to go with a story is there? Perhaps the camera was forgotten. Or maybe nobody would cooperate. Or perhaps you were just too caught up in the moment to remember to snap something.
I certainly found myself caught up in the moment back in April when we had just arrived in Barcelona for a few days celebration of our Silver Wedding Anniversary with the offspring and No.1 Son's girlfriend in tow. As usual everyone had left the organising to yours truly ... and I had researched things to do, places to go and methods of transport so that we could pack in lots of fun stuff like
a bike tour
, a visit to
the famous market
,
etc
,
etc
.
We had a wonderful time ... BUT ... it all went very wrong, right at the beginning! The downloaded instructions for getting to the hotel from the airport didn't quite match up to the map at the back of the charity shop guide book to Barcelona and
neither
of these matched up to reality. Child No.3, the only one who was studying GCSE Spanish and could say more than "
Dos Cervezas por favor
", decided that she was unable to read or speak Catalan and consequently clammed up. We watched in horror as famous landmarks receded from view through the train windows and there were fewer and fewer fellow passengers to ask for directions, let alone passengers likely to be able to speak English! We managed in the end though - I am not averse to collaring complete strangers in a foreign land and am pretty fluent in "Point".
This page was done for the Counterfeit Kit Challenge Blog's
Tag Challenge
this month ... having no photos, but still in possession of a walking map of Barcelona, I decided to punch out some tag shapes from significant sections and use the page I'd started from this month's Counterfeit Kit
here
. Like the stamping? LOL! I've used a cross-head screw to fit in with a (
forthcoming
) challenge over at UKS! And this page will do nicely for
ATDML's Thirsty Thursday Challenge
with
J
for
J
ournalling and
J
ourney featuring rather heavily - I love a good multi-purpose page :D
What do you do when there's no photo for a story you want to scrap with?