Well the final outcome of the UKScrapper's Scrap Factor Competition will soon be known as the final voting finishes tomorrow at 8pm BST. The two remaining contestants -
Nic
&
Katherine
- have submitted three final pages for UKS members to choose between
here
- so there are another
six
gorgeous, inspirational layouts to enjoy - plus a challenge over on UKS to scraplift one of them! Now that ties in
beautifully
with
Challenge #3
over at the Counterfeit Kit Challenge Blog - to browse an inspirational gallery and create a page using our July kits - details of mine are
here
.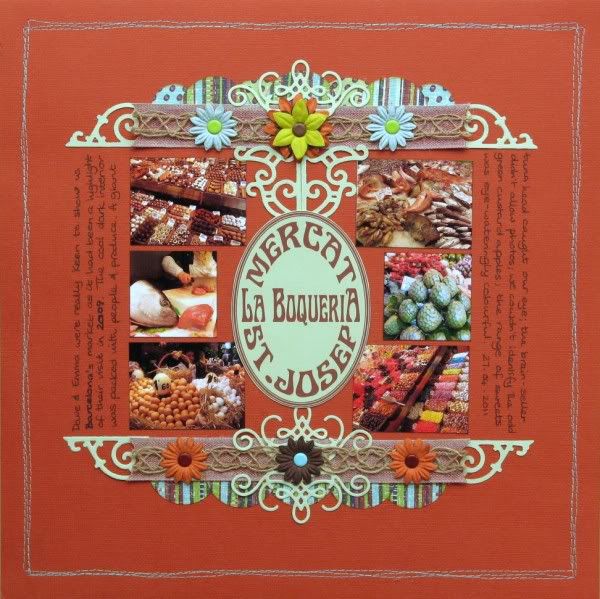 Dave & Emma were really keen to show us Barcelona's market as it had been a highlight of their visit in 2009. The cool dark interior was packed with people & produce. A giant tuna head caught our eye; the brain-seller didn't allow photos; we couldn't identify the odd green custard apples; the range of sweets was eye-wateringly colourful.
If you are a member of UKS you can look at the page I chose for inspiration - the second one from
Nic's final 3 pages
, all about the social side of scrapbooking
(I'll update this with a link to her blog if she posts her page there after the competition closes).
I loved how it included lots of journalling and photos in an interesting page design. I've used photos from Barcelona's indoor market which we visited in April on our Silver Wedding celebratory holiday! The title frame was made in MS Word using two separate Word Arts in Legrand font and an ellipse shape for the frame. The fancy borders are cut with Sizzlits Architectural Accents #3 & #4 and their Decorative Accents die.