Here it is - better late than never - July's Counterfeit Kit. Again I have used my own colours and adapted the travel theme to suit my stash/photos as I have found that works better for me when actually
using
the kits!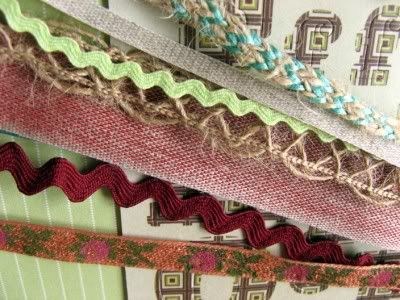 Ribbon-centric embellies this month
In any case, I had nothing that directly matched the kit-to-copy (the
CKCB
went back to Polkadot Whimsy's July 2010 kit for inspiration), so I started by looking through my papers for small geometric shapes - choosing the Paper Salon paper and matching alpha stickers. I then stumbled across a part used prize kit containing a Daisy Bucket collection, blooms, and ribbon which toned in nicely. As I have some photos in mind for this kit I chose was some bicycle paper from Basic Grey to replace the jet planes of the kit-to-copy. Though not shown in this picture, there were loads of fun trims, so I, too, went a bit mad with them!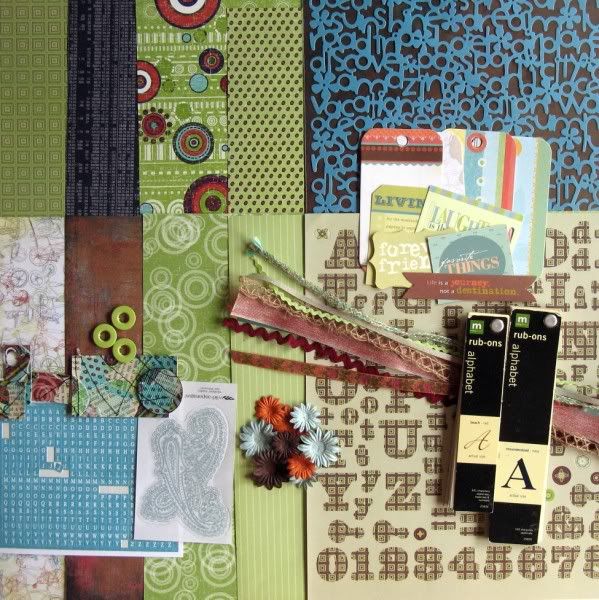 So there it is - not a counterfeit that would fool anyone, but hopefully a kit that I will
use
- starting tonight when my friends on UKS are hosting a little challenge evening to get us scrapping!
Kit Contents:
Cardstock (not shown): ½ green, 1 brown, 1 brick, 1 AC Vanilla, 1 Bazzill Deep Blue Dotted Swiss
Papers:
1 Paper Salon Tribeca Small Squares (plain green reverse)
1 Mustard Moon Navy Wallstreet
¾ Party Mix (multi-striped reverse), ½ Synchronize (white circles & stripes on teal reverse) - both from Daisy Bucket's Playlist collection
1 Bo Bunny Fall Festival Cocoa (under) KI Memories Lace CS
1 Assembly Required, 1 Confession (both Basic Grey)
1 Daisy Bucket Fast Forward (multi-coloured circles, stripes on reverse)
1 Dream Street Papers Wisdom
Embellishments:
1 Paper Salon Tribecca alpha stickers
1 MM Beach Red alpha rub-ons
1 MM Misunderstood Navy alpha rub-ons
1 Adornit Tiny Whoopsy Teal alpha stickers
1 MME Paisley rub-on
8 Lime gromlets
Selection of flowers in brown, orange and light teal
Various ribbons and strings
Various journalling cards (KI) and word spots
Some left over collage pieces using Playlist papers