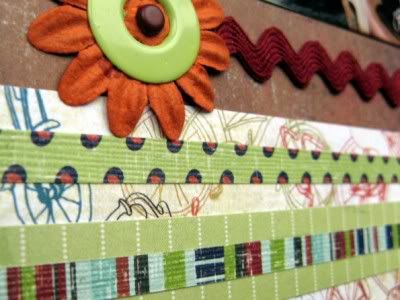 Welcome to August's Counterfeit Kit Challenge Master Forger Blog Hop - with an exclusive sketch by Allison Davis from
Sketch Support
- this month's CKCB sponsor! If you've joined me from
Kim's blog
you are on track, if not and you want to see what the other Master Forgers have been up to then please check out the
CKCB
for a full list of the hop.
I'm cheating a whole lot this month ... because when I saw the sketch I knew I had the perfect photos for it along with the perfect papers .... but they weren't in this month's kit - they were in
July's
!!!! So forgive me - I couldn't resist! Here's the perfect sketch:
and here's my take on it - the photos are from the most marvellous bike tour of Barcelona in April. It was a brilliant way to get a flavour of the city and culminated in a lovely lunch at the beach.
I had to do some careful cutting of my Basic Grey "Assembly Required" bicycle paper to make just one sheet of that and one sheet of the brown "Confession" paper stretch across the two pages.
The other papers are strips and scraps from my July kit - making 5 patterned papers in all on my page - fitting perfectly with a challenge over at
Sarah's Cards
- one of my favourite online shops!
As you can see No.1 Son's girlfriend struggled to eat her lunch in a ladylike manner! The tour was very entertaining and apparently there are
Fat Tire Bike Tours
in Paris, London and Berlin as well so hoping to try them again on future city breaks!
Now if you want to see another interpretation of that fabulous sketch please pop over to
Margie
, where she'll have stuck to the brief more closely than me and used
this
month's kit!
P.S. There's still a little time to tell me why you'd like to receive, read and pass on a World Book Night book
here
.
P.P.S. Someone, somewhere on the Master Forger Hop today is giving away a little something to a commenter ... could you be the lucky recipient?