Are you counterfeiting? I have been: over at the
Counterfeit Kit Challenge Blog
they've announced the latest kit
S
-to-copy from
My Creative Scraproom
(although it's not
their
latest [which
is
are lovely - check
it
them out
here
] - the CKCB went back to September 2010 for inspiration this month).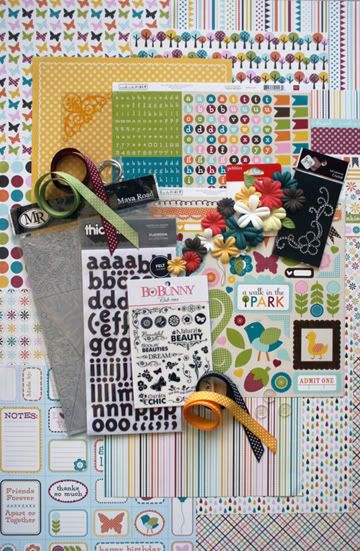 We were give the choice of four kits to counterfeit (a main one, two add-ons
and
a limited edition kit) - and while I was tempted to have a go at them all, the thought of my half-used July (and June) kits made me stop at just the one!
I chose the stunning Creative Add-on Kit as I love the bright colours and small patterns ... trouble was I had
NO
Echo Park papers at all. So I looked through my stash to see whether I had some papers with:
butterflies (sort of)
trees (no chance)
small colourful circles (plenty)
narrow colourful stripes (plenty)
small colourful flowers (surprisingly few)
diagonal colourful checks (none)
... and came up with circles, stripes and matching alphas from Polar Bear Press and butterfly floral paper from Sei ...and these were the starting point for my kit:
You will note that they really aren't
anything
like the original, but this whole challenge is about using what you've already got so that's what I'm doing. I then selected a few more papers, some butterfly stamps and a variety of embellishments (with buttons instead of flowers) to produce this kit for August:
I'm hoping the addition of teal alphas, ric-rac & buttons will help me ring the changes when it comes to using the kit, the full contents of which are listed below.
Cardstock
: AC Vanilla, 2 cream/green flecked, Bazzill green, yellow, peach & brown
Papers
:
Sei Morning Meadow (plain cream reverse)
Polar Bear Press Sherbet Stripes (mottled green reverse)
Paper Loft Sanded Geometric in green
Polar Bear Press Sherbet Dots (mottled peach reverse)
Doodlebug Design Obviously Orange Dots
Dream Street Papers Forget-Me-Not Stitched With Love
Imagination Project Desperately Seeking Summer
Leopard skin print (unknown brand)
K&Co Teal Scrolls
Embellishments
:
Polar Bear Press Sherbet Ice stickers
Orange, green, teal alphabet stickers (MM?)
Cosmo Cricket Tiny Type teal alpha stickers
MLS Mint mini alpha stickers
K&Co Brenda Walton Mira Words rub-ons
Daisy D's Top 10 Random Lists cardstock die-cuts
Selection of buttons in orange, green and teal
Various ribbons
Jillibean Soup Journalling Sprouts in white/brown
Glitz Frosting flowers
Maya Road Vineyard chipboard shapes
Banana Frog Butterfly stamps
P.S. There's still time to hop around my
Blogiversary
friends and find the missing number to be in with a chance of
a give-away
.... I'll be back with the winner on Monday 9th!