I love Christmas - the decorations, the lights, the mince pies, the mounting sense of excitement, the darkening nights, the stollen, the window displays, the carols sung by church choirs, the royal icing on top of marzipan on top of alcoholic fruit cake, the stockings hanging by the fireplace, the mulled wine - I love it all! But only in DECEMEBER!
During November I despair that other people make me feel under-prepared because I haven't even
made
a Christmas shopping list, let alone tackled it; I shut my ears to the claims by friends that all their hand-made Christmas cards have been stamped and addressed and are ready to be posted (last year I received the first Christmas card in October!?!?!?); I turn away from stacks of seasonal goodies in the supermarket - those mince pies will be out of date before we're half-way through Advent, let alone be in a fit state to leave out for Santa!
I haven't always been like this. One year I did manage to make about 100 Christmas cards for all our various friends and relatives
and
they were delivered on time! The secret to this was finding a simple design that allowed for a bit of creativity, wasn't too boring to make over and over and over and over .... and wasn't a ridiculous price to send (Royal Mail's Pricing in Proportion has had an unfortunate effect on the hand-made card production in
this
house!).
These cards were made with triangles of shrink plastic, which were doodled with OHP pens before shrinking, wrapped in coloured wire, dotted with toning glitter glue, mounted on doodled silver card with a sequin and the whole shebang was matted on a couple of rectangles of shimmery paper. When I got bored with drawing lines I switched to wrapping wire and when that palled I dotted glitter glue ... it was fun and the kids could help too.
Nowadays, however, I am down to making just a handful of cards, which get hand-delivered to my nearest and dearest. This
does
mean that I can make more of an effort; my Mum's favourite was a Christmas Tree card which folded flat for the envelope but functioned as an ornament as well as a seasonal greeting.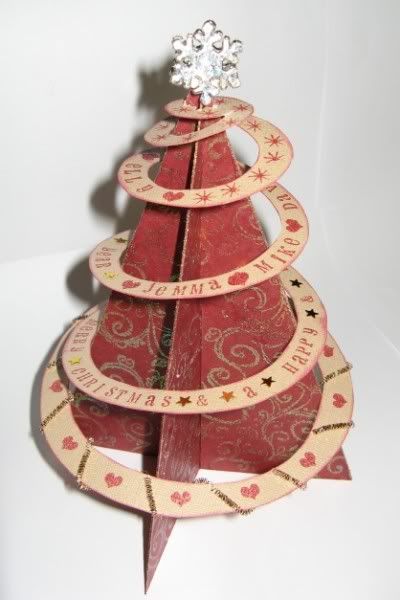 It isn't my design though - I found it in the UKS gallery and contacted its creator
Irene Tan
(Scapperlicious) for the instructions (which are base
d on Sandi Genovese's original design).
Irene has kindly given me permission to share the
trunk
and
spiral
templates and her original card is
here
so
please
give her some comment lurve if you have a go at making the card too.
Flat for posting!
Awful flash photos sorry - taken
before
I actually learnt to use my camera!
Now, I wonder what I'll do for this year's couple of cards ...