Over on UKScrappers last week there was
a fun challenge
to use an advertising slogan as your title - and of course my mind went totally blank!!! I get this when I answer surveys too - no matter how hard I think, I can neither recall the product when told the slogan, nor remember the slogan when faced with the product. Yet while I'm watching the advert I'm usually irritated because I've seen/heard the combination so many times. Marketing budgets are wasted on my butterfly brain!
Thankfully Google pointed me in the right direction and I eventually found a 7-up slogan from 1965/66 that fitted these rainy pictures from last July (please note the typical British summer holiday weather) when we visited Hadrian's Wall at Housesteads Fort. I've used my
September Counterfeit Kit
along with a sketch from
Sarah's Cards
.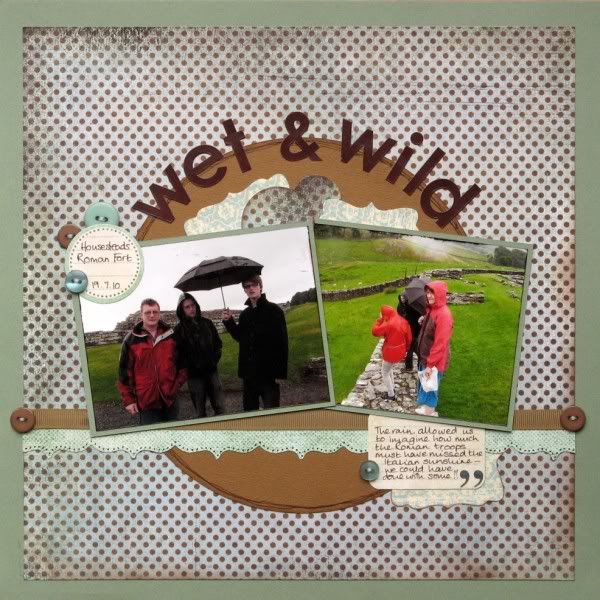 The rain allowed us to imagine how much the Roman troops must have missed
the Italian sunshine - we could have done with some ourselves!!
I think No.3 Child is responsible for getting rain droplets onto the camera lens and chopping off my feet ... don't we all look like we're having a
grrrrreat
time .... aha, now that reminds me of a slogan I
can
link to the product - Tony the Tiger and his Frosties!
I also visited Housesteads in August 2009 - it poured then too!! One day I'd like to walk the length of Hadrian's Wall, but given my track record, I'd better invest in some decent waterproofs first!
P.S. As I
love
combining challenges, this page also fits in with Scrapbookers Anonymous'
"B" challenge
as I've used Basic Grey paper and Buttons!