Have you got any scraps left from your March Counterfeit Kit? Want a fun way to use them up? Then you've come to the right place! I couldn't join in with a full blown kit this month as I was busy with ... well I was busy! But I loved the colours of the kit-to-copy by
Birds of a Feather
and one sheet of paper in particular: Authentique's Friendship paper from their
Genuine
collection.
Look closely and you will see that the chevrons are entirely made from triangles ... which got my counterfeiting brain into overdrive! So when the
Counterfeit Kit Challenge Blog
asked the Master Forgers to put together a card kit from the counterfeit kit I was quick to volunteer!
Just gather your paper and card scraps, a couple of card blanks, some ink and sentiment stamps and create along with me: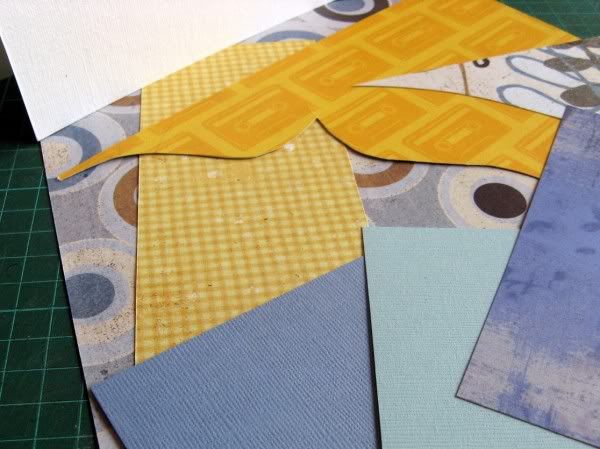 Grab your scraps and get cutting!
Cut your paper scraps into 1" (2.5cm) squares and then cut along each diagonal to make two right-angled triangles. Ink the edges of each triangle to hide white cores and "tie" them together.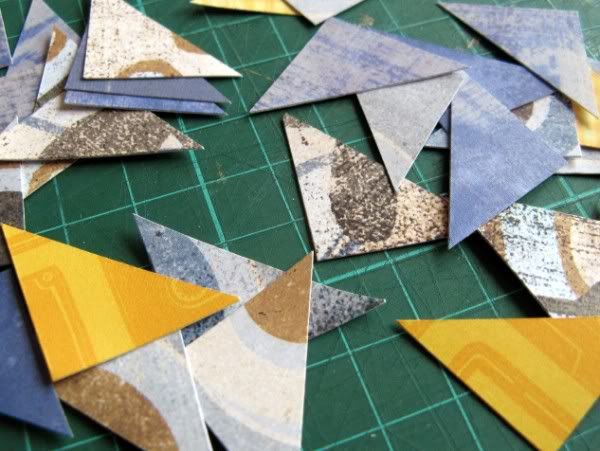 I used 10-15 squares (20-30 triangles) to make each card
Cut a piece of card to 3.5" x 5" (8.5cm x 12.5cm) and draw a faint pencil line down the centre parallel with the long edges.
Arrange the triangles along the centre line of your card to form a zig-zag line.
Add triangles along the long edges of the card to create a zig-zag effect from the cardstock.
5 individual triangles fit along the long edge of the card
Adhere the panel to your card blank and mount a stamped sentiment on foam pads to complete your card.
Ippity Stamp
My second attempt used a different blue which was too bright ... so I added more triangles and created a modernist card: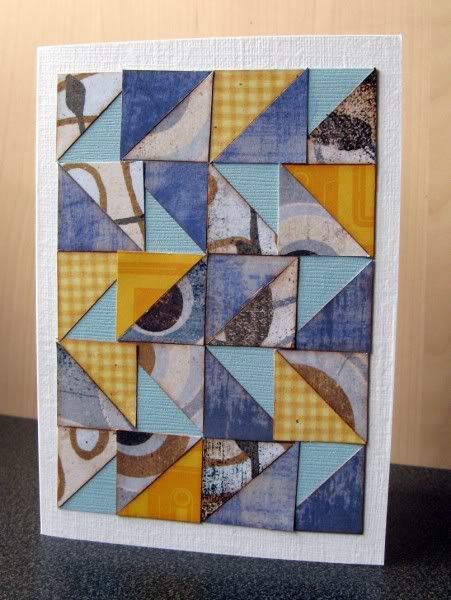 Too busy for an added sentiment!
I had a lot of fun playing around with the combinations of triangles on a page ... and decided this was a simple way to make subtle chevrons from any paper as well as a great way to use up tiny scraps or even hard to use patterns like my cassette paper from Crate Paper!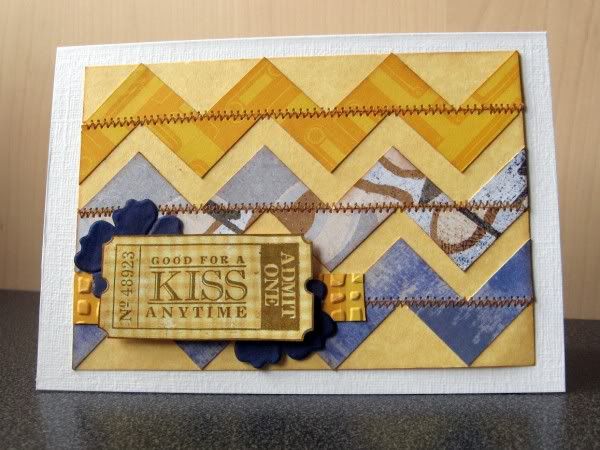 A different arrangement of triangles gives thinner zig-zags
and machine sewing adds texture
Inkadinkado stamp