Welcome to the
October Counterfeit Kit Blog Hop
- if you arrived here from
Clair
via our guest designer
Tina
, then you'll know that we're shaking things up this month by creating
Counterfeit Kits
Identi-kits using a {c}old
Case File #S365-9
from the parnership between
Colour Stories Inspiration Blog
and the now deceased Scrap365 (I miss that magazine)!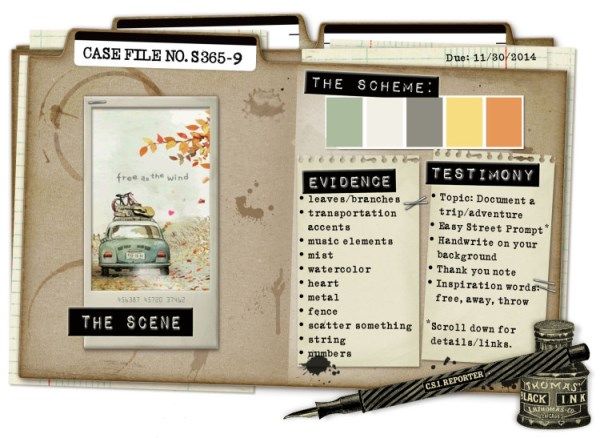 The Scheme:
I started looking through my papers to see what might match the colours and found a pair of papers in pale green and orange as well as a sheet with ecru/grey on one side and yellow on the other. All colours found, I raided some 6x6 pads and my scraps bags for extra patterns. Matching mini-alphas should help me with the clues!
The Evidence:
Leafy washi, metal brads, coloured string and bakers twine add to the picture along with some wood veneer stars and buttons to scatter around. Those heart-shaped enamel shapes help support the case.
Supplies:
Green tiny floral print paper - unknown manufacturer as this was an outcast from a friend's stash
Lily Bee Design Queen Bee (yellow damask reverse)
¼ sheet Grandpa's Overalls Stripe by Mustard Moon
⅓ sheet Basic Grey Create from Colour Me Silly
Orange tiny floral print paper - same source as above!
6x6 sheet Pink Paislee Prairie Hill
6x6 sheet American Crafts Thataway Collection
¼ sheet Echo Park Navy (?) Ombre (grey reverse)
¼ sheet Holly-Christmas Vanilla by daisy d's
Echo Park All About The Boy Superhero (teal, white, orange explosion reverse)
MM Paper Reverie Noir alpha stickers
WRMK green leafy washi tape
Grey, yellow and orange paper blooms
Grey washi tapes (from a fellow blogger)
American Crafts wood veneer stars
Lily Bee Designs ABC neutral mini alphas
Grey and white baker's twine
Cream and orange hemp cord from Hemptique
MLS Fog mini alpha stickers
Basic Grey Archaic glazed brads
Bingo Card from SS Urban Traveller
WRMK Enamel Shapes
7 Dots Studio Illumination word stickers
There's still some
Case File Testimony
for use during the month ... which should help me solve the huge pile of photos that I still have to scrap!
Now you need to pop over to
Julene
and see what supplies she has managed to unearth! If the trail goes cold, you can always pop back to the incident room
here
and work out where to take the next step.