In the year 1PB (Pre-Blog) I was lucky enough to win a place on Shimelle's "Journal Your Christmas" course and made a mini-album documenting Christmases past and present, our December traditions and activities, the weather as well as New Years Resolutions and the start of 2010.
Thirty seven
pages (December 1st - January 6th) plus a couple of extras, bound into a fat little album which will be fun to look back on. The pages are
here
if you're curious.
Unfortunately I had such fun creating each page, that I couldn't keep up and it took me the whole of January to finish the album which began to be a bit of a chore. There were two ways to improve upon that this year:
Do LOTS of preparation before December: make a month's worth of blank pages, journalling spots, date spots, etc and just add the photos and journalling on a daily basis.
Keep it really, really simple: just a photo a day, some journalling and the date.
Well the first plan fell by the wayside, not helped by
my Egyptian adventures
, so I guess it will have to be a really simple, easy to keep up with album.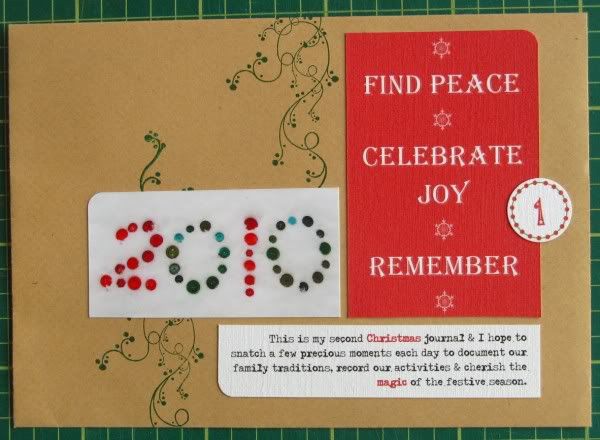 "Manifesto" page plus buttons in the snow
My pages are based on C5 manilla envelopes from the stationers - this will allow me to have a pocket for extra journalling when I need it without adding extra layers. I had considered cutting the envelopes into squares, but have decided that I like the landscape format of them, so that's one less chore to worry about.
My thanks to
Mary
for her recent gift of bright green buttons used here :o)
Seagulls at Winterley Pool
I was also agonising about covering up the flaps/seams on the back of the envelopes and then remembered that life is just too short to worry about things like that.
Keep It Simple, Stupid!
To give the pages continuity I have picked out some Basic Grey flourish stamps, printed off my own date spots using
Kingthings Willow
and am typing up the journalling with
Type Ra
font.
And that's me up to date at just past midnight on the 3rd day ... how long will I keep things simple I wonder?