As you may know tulips are pretty important in Holland and were once more prized than gold. Not surprising then, that they feature in the Dutch theme park, the Efteling, one of the oldest theme parks in the world.
I lived in Holland as a child and enjoyed many visits; pretty much everything I remember is still there (plus lots more) and we have visited several times in my adult years (before and after starting a family when I worked in Holland) and we returned in 2006 to reintroduce the boys to their childhood memories.
When I was a child, one of the most magical animatronic sets was where a sorcerer flies on a magic carpet between two towers, serenading yellow tulips into life from the window of one tower, before returning to revitalise the red tulips around the other tower. Our visit in 2006 coincided with some of the worst August weather and we rarely had to queue for more than 5 minutes for the various rides, but I was amazed to come to the "
Fliegende Fakir
" and find that we were entirely alone. Nobody else there at all! Can you see the puddles and the wet jeans?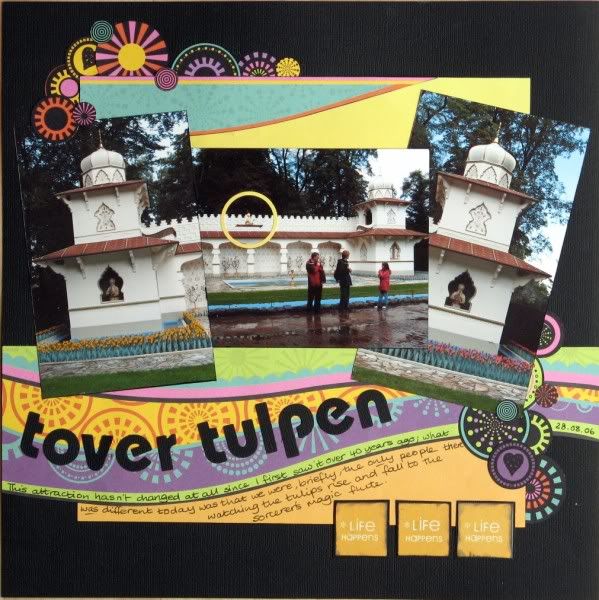 "This attraction hasn't changed at all since I first saw it over 40 years ago;
what was different today was that we were, briefly, the only people watching
the tulips rise and fall to the sorcerer's magic flute."
My
October Counterfeit Kit
was great for this page as it brightened up the soggy photos and reflects the magical feeling the Efteling evokes in me. I also took up the
third CKCB challenge
this month: to pile the layers on a page. I have cut up a strip of Kaisercraft Allsorts Passionfruit, punched loads of circles from a sheet of Allsorts Blue Heaven, layered my photos and added a few squares from my Life Happens paper to match the bottom of my ancient (rather creased) Creamotion yellow paper - so glad that that is
covered
used up!!!
P.S. The use of punched
c
ircles and
C
reamotion paper also ties in rather nicely with
Scrapbookers Anonymous' C Challenge
:D