Welcome to the
Counterfeit Kit Challenge Blog Master Forger July Kit Blog Hop
! What a mouthful!!! The hop started here with this month's Guest Designer
Sherri
(a former Master Forger who just can't stay away) and, thanks to a other commitments for a couple of the girls, I'm 2nd in the hop! I didn't make any pages in June following my surgery so I'm really glad to be back in the counterfeiting saddle again!
This month's kit-to-copy is from
Citrus Twist
and is full of teal and apricot loveliness with plenty of trendy chevrons and woodgrain. Unfortunately I have just about run out of teal and apricot stash with or without chevrons and I've never owned any woodgrain!!
So, after substituting some wavy blue paper for the blue chevrons, some stripes for the woodgrain and grabbing a few floral papers I realised I had the beginnings of a great kit to continue with my Las Vegas photos - stars, stripes and denim?!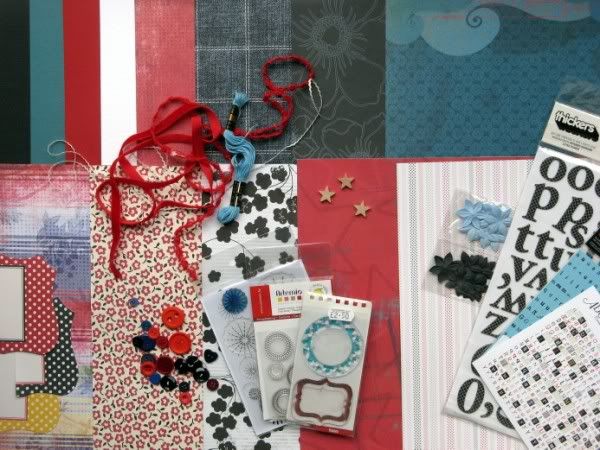 Supplies
Cardstock in black, blue, red & white
Lucky Sun-Kissed by Basic Grey
My Mind's Eye Stitched (On The Bright Side collection) - bright stripes on white on the reverse
Japonica from Kaisercraft's Loire Valley - cream grid & bird silhouettes on the reverse
Basic Grey Recess Answers
Lucky Joy by Basic Grey
Petite Red Floral by Jenni Bowlin
Kaisercraft's Sakura Park Kanzan - brown floral on the reverse
Red starry paper (manufacturer unknown)
Affection from Fancy Pants Designs' Love Story collection - black & white floral on the reverse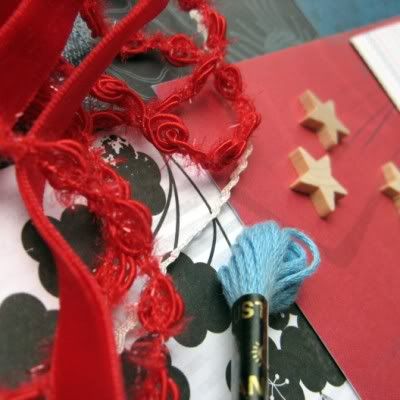 Embellishments
Jenni Bowlin shaped journalling spots
A selection of red & blue & black buttons
Red velvet and floral trims, tiny white ric-rac, blue embroidery floss
Wooden stars
A selection of stamps
Blue & black blooms
Thickers Regards chipboard alphabet
Blue Jeans mini alpha stickers by MLS
Multi Reds mini alpha stickers by Adornit
Vintage book page(s) & scrap(s) of denim (
not shown
)
Very 4th of July don't you think - shame I'm not an American (and that my Diamond Jubilee celebrations were such a wash-out)! I do hope you'll join me for some counterfeiting this month :o)
Next on the kit tour is the lovely
Julie-Ann
who will be sure to have something special for you to see. If you get lost along the way pop back to the
Counterfeit Kit Challenge Blog
for a full list of the hops!