Welcome to another month of kit counterfeiting with the
Counterfeit kit Challenge Blog
. This month sees a few changes amongst the Master Forgers: we are losing some old hands, but gaining some new talent, including this month's guest designer,
Laura
. She starts our kit reveal hop today and if you hopped here via
Dawn
you will already know that the luscious kit-to-copy this month is
Summer Fun
from Crop & Create Delivered.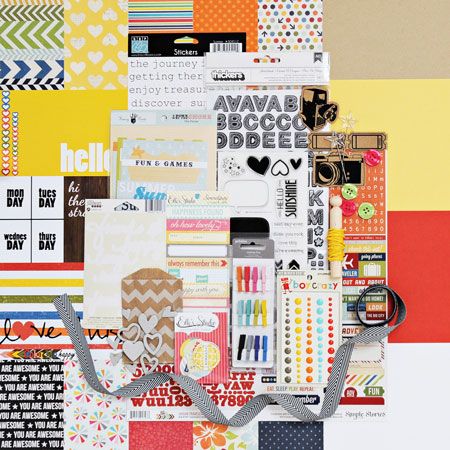 The kit is HUGE and jammed with embellishments so I knew there was no point in me copying each item ... I'd never use it up!
Instead I squinted at the photo and realised that this kit is full of bright colours along with lots of black and white alphas, words, journalling cards etc. So I grabbed a couple of bright coordinating patterns, some coloured pegs, a little yellow twine, some black and white ribbon, a few alphas and some kraft tickets (I'll admit that I could
not
find the
tiny
tickets I know are somewhere in my craft supplies ... they have grown legs!) and produced a kit that I was itching to scrap with:
Supplies:
Peach, yellow and whitecardstock
Basic Grey Lime Rickey Banana Frost and Boston Cooler
Bella Blvd Sophisticates Sprinkles & Lace Banana (yellow brocade reverse)
Nonchalant from Basic Grey's Offbeat collection
DCWV Black & White Numbers & Letters
Straw, Bluebird and Hayloft from Basic Grey's Urban Prairie collection
Prima Marketing Tropics Fire At Sunset
Bo Bunny Precious Thoughts word stickers
White pearls with Sharpies to colour them
Bo Bunny White Shabby Random Thoughts
Luxe Bracket Rub-ons in black & white
Scraps from previous kits
Kraft luggage tags
American Crafts Flair
Woven word labels
Sequin waste
Tim Holtz Idea-ology Adage Tickets
American Crafts Remarks JFK alphas
Doodlebug Double Takes Lovely Lime alphas
My Little Shoebox Butter mini-alphas
Mini-pegs in various colours
Yellow baker's twine
Home-made Bingo Cards (
check out the CKCB on the 8th for lots of tutorials
)
Simple Stories Sn@p! Happy Sayings Quote Cards
Various ribbons & buttons from my stash
Phew - not such a small kit after all! I wonder whether
Julene
has gone large or small with her kit? Why not hop over there to see what she's put together from this month's inspiration kit.If you get lost along the way (we have some gaps due to inexperience I see) ... the full list is published
here on the CKCB
.