Time for another few photos for
Rinda's Summer 2013 Scavenger Hunt
. Last month I posted some sunny pictures when it was raining and today I'm posting some photos taken on a VERY wet day while we're enjoying a mini-heatwave!
My friend & I spent the day walking around the coast north of Liverpool, including a visit to Formby's Red Squirrel Preserve where we spotted THREE red squirrels (or perhaps it was one red squirrel three times?). My poor camera was on
maximum
zoom as the feeders were quite far away and even then, the squirrels move so fast that we struggled to get
any
photos, let alone good ones.
#11 Animal In A Nature Preserve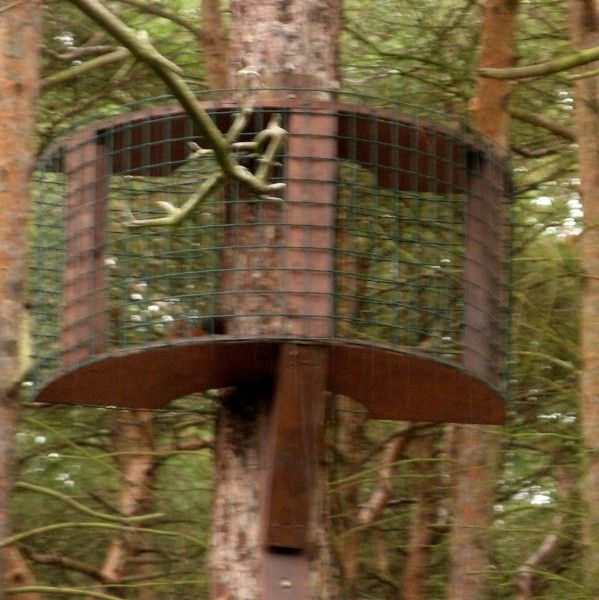 Hopefully, you can just about see that there is a red squirrel with a dark bushy tail to the left of the tree trunk ... I will try to grab a better shot for #11, but this may have to do!
While travelling south towards Crosby Beach to see Anthony Gormley's "
Another Place
" I spotted an unusual garden ornament:
#16 Windmill
Upon reaching the beach I put away my umbrella, not because it had stopped raining, but because it was blowing a gale and the brolly was trying to invert itself! We were soaked, as was the beach (the tide was coming in not out)! "
Another Place
" is a collection of identical 6ft 2in cast iron statues placed along a two mile stretch of the coast. The sea submerges some of them; others have been half-buried by shifting sands.
After a long walk past about half the 100 statues, we took shelter in Crosby Leisure Centre where I spotted a slightly different version of the sculpture inside the swimming pool:
#14 Mosaic
Having found
four Scavenger Hunt photos in 10 minutes
, I felt that three finds was a bit disappointing for a whole day out ... so I had no hesitation grabbing a fourth upon our return to the train station: an illegally parked ...
#15 Police Car
So that's now 9 down and 11 more items to find. Are you joining in with
Rinda's Summer 2013 Scavenger Hunt
? How are you getting on?