Another month, another kit to copy. Welcome to April's Master Forger Blog Hop ... did you reach me from our Guest Forger
Sharon
? If not, the start of the kit reveal hop is published on the
Counterfeit Kit Challenge Blog
today.
Not heard of the CKCB before? Trust me it's a great way to use your existing supplies to make kits that are easy to use ... because you pick them yourself, using inspiration from an existing kit! Very good value for money too i.e. generally zero if you have a well-stocked scrappy cupboard!
This month we're starting with
Elsie & Emma's March Messy Box
which looks like this: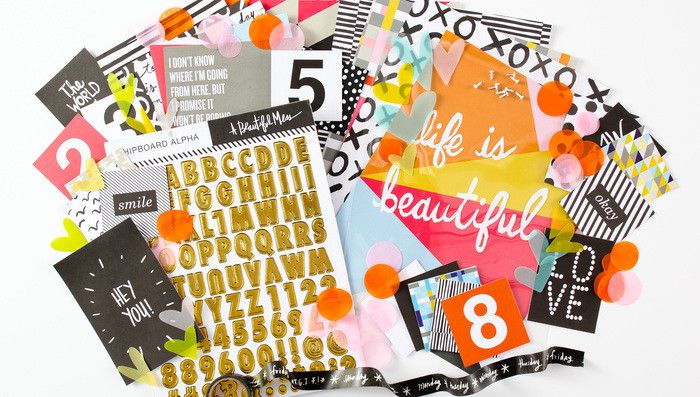 Lots of
black
and
white
and
orange
and
teal
, some dots and stripes ... and not one thing that I can match exactly from my supplies! I knew that I had some bright papers and some black & white supplies, but when I spotted this sheet I decided it had lots of
black
and
white
and
orange
and
teal
, some dots and stripes ... and it was the perfect start to my kit:
At the CKCB we have no rules about how closely you match the original, nor how you take inspiration from the Kit-to-Copy, just as long as you use up supplies. So here's what I'll be scrapping with this month ... stash to match that single sheet starting point!
Supplies:
Ringtoss from Prima Marketing's Dude Collection (orange floral reverse)
Heringbone/Orange, Looking Good, Boutique Stripes/Green (from Simple Stories DIY Boutique)
Echo Park's About A Boy 4x6 Journalling Cards (the teal patterned reverse is shown)
Ad Lib Hoopla by Bo Bunny Back To Basics (yellow, teal, lime circles reverse)
Basic Grey Colour Me Silly alphabet stickers
Delight fabric Thickers
Simple Stories Sn@p! Studio lime mini alphabets
Some ampersands from a Simple Stories' Outside The Box sheet
DIY Clear Stickers by Simple Stories
Q&Co and WRMK Washi tapes
Some American Crafts Flair
As usual I'll add cardstock as I need it - and no doubt there'll be a few other additions from my regular stash depending on the photos.
Julene
is next on the tour for scrappy kit inspiration and the
CKCB
has the full tour if you get lost. Don't forget to check back there on the 4th for detailed forgeries from the inspiration kit.