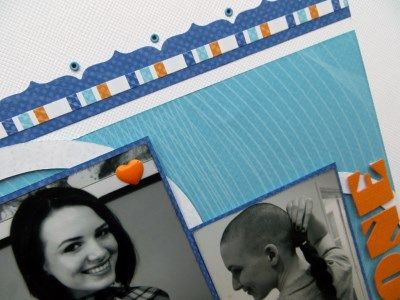 Well that's another fabulous retreat over and done with - thank you
Lesley
. I've laughed (with friends from near and far) and cried (over Rosie's beautiful quilt) and won (a prize in the raffle) and lost (my way to the car park ramp) and scrapped (five and a half pages) and punched (a film strip for Pauline) and eaten (too much) and drank (rather less).
Here's a page I made for one of the challenges - a sketch - which also ties in with last week's weekly challenge over on UKScrappers (using aquamarine, 3 of something - the rings, 7 of something - the tiny eyelets and incorporating water - the waves of the Kasiercraft Offshore patterned papers)!
Child No.3 recently shaved off her hair to raise money for Macmillan's, a cancer hospice charity ... and when I say shaved, I mean right down to a #1 setting! Her
original target of £250
has been smashed ... many thanks to everyone who has donated so far.