Welcome to another month of kit counterfeiting with the
Counterfeit kit Challenge Blog
. Having started last month's reveal, I'm bringing up the rear this time - so you should have seen everyone else's efforts already ... including our Guest Designer
Salla
... and found my blog via the lovely
Susanne
. If so, you'll have seen loads of photos of the Kit-to-Copy, the
Hip Kit Club May 2016 Kit
and all the add-ons and extras.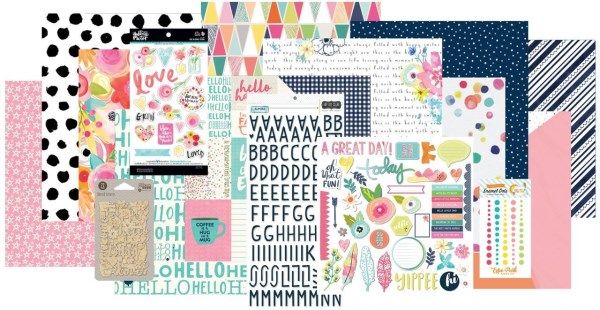 Whenever I start counterfeiting, I look to see if I have anything (similar) from the original kit.
Yes
- I had some Jillibean Soup mini placemats from the PL Kit and some wood veneers from the main.
The patterns ar ethe next pointer for forgery: words on a page ... dots ... patterned stripes ... florals ... triangles ...
Yes
- I had some bright text-covered paper, loads of dotty patterns, some navy striped paper I could embellish, some matching florals and some triangular brads!
After that I add to what I've already selected, keeping an eye on the colours ... there was plenty of pink in
last
month's kit, so this time I concentrated on the turquoise! Here's my mini-kit:
Supplies: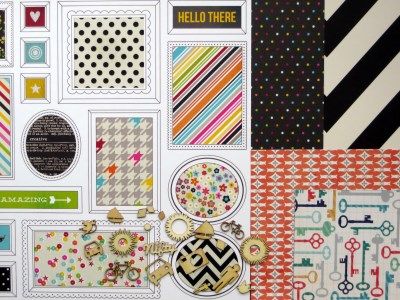 Freeze Frame (
frames
), Who's To Say (
floral
), Chevron/Teal (
chevron
) from SS DIY Boutique
Some polka dot paper from a giveaway pile
6x6 Sheets of MME Now & Then Izzy paper Smart/Boys (
keys
) and Frolic/Happenings (
orange pattern
) which is now a forgery of a Hip Kit Club Exclusive (see Forgeries on the Fourth for details)
Jillibean Soup Mini Placemats - Smile
Triangular brads in various colours
Navy/white arrow washi tape
KI Memories Softies
(random extra - to use them up!)
Creative Memories Stencil alpha stickers
Gin XCollege Navy and Chotchkie White rub-on alphas
Wood veneers from my stash
Total effect ... not a lot like the original, but definitely usable, and some seriously old stash busted out of storage!!
The full list of Master Forgeries is available on the
CKCB today
if you fancy joining in.