I have just about been keeping up with this year-long project hosted on
Scrapbook & Cards Today
run by
Davinie
. The finished album will be a brilliant record of this family's life during 2010 and gives me a chance to chart the changes that have taken place as well as celebrate the little things that might not merit a whole 12x12 page to themselves. Here's my page for September: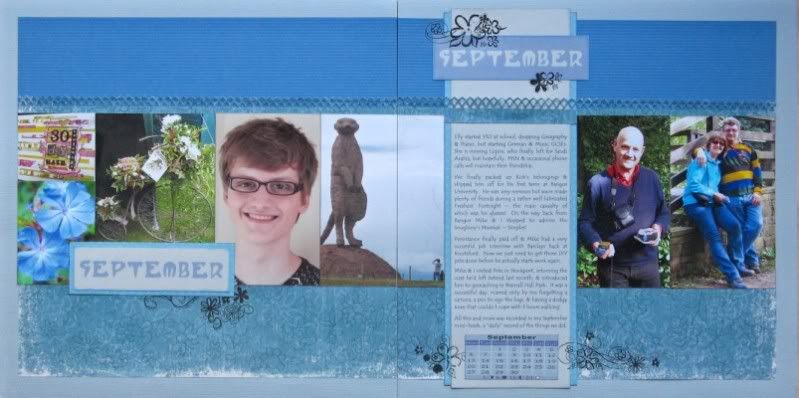 This DLO gave me a lot of headaches to be honest and I'm slightly fed up with it! Firstly, and very embarrassingly for a mathematician, I miscalculated the widths of the photos I wanted to include when I was printing them (the Pagemaps sketch just wanted three 6"x4" landscape photos but I had loads more than that),
then,
after discarding two photos, I over-cropped some of the rest,
then
I ran out of glue,
then
the new glue glooped onto one of the photos,
then
the Kaisercraft rub-ons refused to rub-
ON
cleanly ...
... as I was saying over on
Alexa's blog
- I am
trying
to embrace imperfections, but this was a bit too much at midnight!
Anyway it's done now, in time for the deadline I hope (at least if it's in Canadian time LOL) and I can start thinking about what to scrap for October's page ...