This
Ten on the Tenth
post was
supposed
to show you my progress so far with my Journal Your Christmas album ... only the progress is somewhat minimal. I've made the bones of my album and notes about what to write, which pictures to include; I have plenty of embellishments and stickers and tags from the Kaisercraft kit that I won earlier in the year. BUT although I worked on it at today's full day crop, perhaps there was a little too much jollity, cake eating and secret santa-ing, because I have only completed 5 pages rather than 10!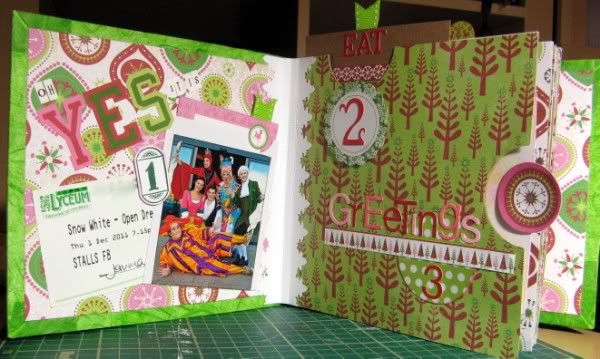 Dec 1st - Panto, Dec 2nd - Crop Xmas Meal, Dec 3rd - Christmas Cards
Journalling is on the tags behind the photos/in the pockets
Dec 4th - Dreams of Decent Photo Ops, Dec 5th - Advent Calendars
So I'm still 5 pages "behind" (
I know, I know, Shimelle reckons you can't get behind with this class, but I have 5 empty pages in my album that need filling NOW
)! I don't quite know why I'm torturing myself by looking around at all the other things that I'm behind with ... but there are a number of other
U
n-
F
inished
O
bjects lurking around here:
I haven't made a start on the mdf NOEL that I bought at the NEC at the beginning of November - I wonder if it will be ready for
next
Christmas?
Then there's the decopatch paper I asked Santa for in 2007 ... used on a pen and a coaster pen-pot, but not yet for the purpose for it was intended for: prettifying my crop box!
Back in 2009 I made a lovely matchbook mini with the help of my friend eClaire ... it's still awaiting any photos!
Then there's the Christmas star album I made at my very first Scrapping Day Retreat towards the end of 2007 ... also devoid of photos!
I've been making a perpetual birthday calendar since January 2010 but because I wanted to include a variety of my best nature shots taken during each calendar month ... it still has several months to go as I've never managed to take the right sort of photos at the right time during June, July, September, October or November!
This is becoming the story of my life! Are my eyes bigger than my crafting time? Do you have this many UFOs?