Today I want to share a page I made for the
Counterfeit Kit Challenge Blog's 2nd challenge
of the month - to scrap with small photos. I took hundreds of photos during my recent trip to Las Vegas and yet this page actually uses several of my friend Jacqui's pics (she took a more complete record of the myriad shapes made by the magical fountains outside the Bellagio Hotel than I did). I used a Sizzlit film-strip die to include several shots of them: the frames are 2cm x 3cm so I used a my printer software to re-size the photos to fit behind them.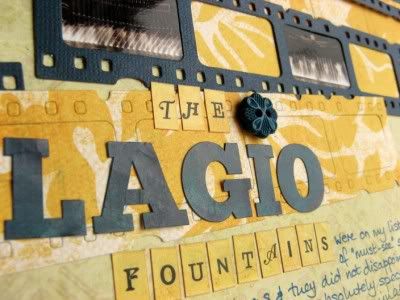 The film-strip frames die was also used to add texture to some of my patterned paper; to stop the cut-outs from falling out I added double-sided tape to the back after die-cutting and used this to stick the patterned film-strips to the page. Everything is from my
April Counterfeit Kit
apart from the Echo Park blue title alphas which needed a little extra ink to make them tone better with the cardstock.
Have you been playing along with
Shimelle's weekend crop
? The deadline is almost upon us which is why I've linked this page there too - it ties in nicely with her
15th challenge
- to scrap with less than perfect photos - by printing the blurrier ones really small you can appreciate the shapes made by the fountains without noticing the imperfections!