Did you have a good scrappy weekend? The
Counterfeit Kit Challenge Blog
hosted a weekend of inspiration and colour-themed projects. I had a play with
Challenge #4
to include all the colours of the
R
A
I
N
B
O
W
of colours in a page.
Some photos of No.1 Son meeting the cast at Marvel Superheroes Island in Florida's Islands of Adventure certainly deserved a colourful layout and I had included plenty of colourful stash in my
May Counterfeit Kit
.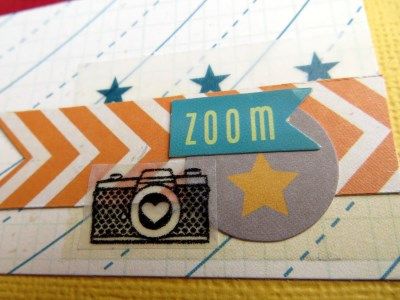 My page started life using the
May sketch
from Scrap365 but the use of the
Boys Rule Race Track
paper in the background led me to titling the central block, Time Tunnel style ...which is more fun don't you think?
Apart from that rectangle of rainbow striping I've written my journalling in a variety of colours and included plenty of other shades to the page.
P.S. The joy of this sort of page design is the ability to "gut" behind the large blocks giving me plenty of spare yellow cardstock and, more importantly, the centre circles of the Race Track paper to use on another layout!