Where did we get to with my
first installment with Scottish scavenging
... oh yes, the lack of garden gnomes! There were quite a few items I struggled with, but more because I was in "holiday" mode rather than "spotting-obscure-items-along-the-way" mode - I kept forgetting to look for birds on a wire (#3) and there was NO way I was getting up early enough to photograph a sunrise (#13)!
Another item I was struggling to find was a mascot ... I did wonder if
a Scots Piper was emblematic of Scotland and would count ... or perhaps a cute Scottish bear, cuddly Nessie or furry long-horned sheep might fit the bill? Perhaps this photo including someone else's hand could tick off Mascot, Horn *
and
* Photo-Bomber?
#10 Handy Photo Bomber
OK maybe not - but there were real
horn
handled knives in the next window along!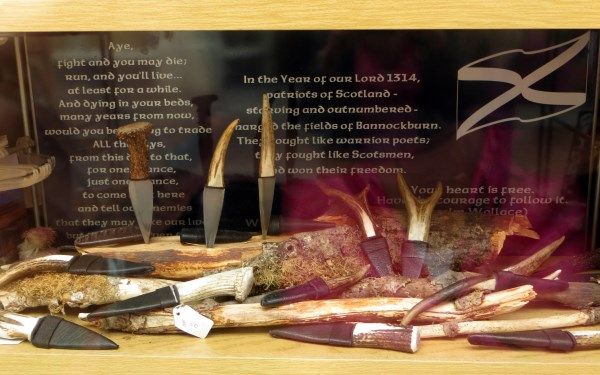 #11 Horn
One sunny evening we climbed the steep stepped hillside to enjoy the view on Calton Hill, including a sunset over the city sights.
As the lights went on we descended again and passed several stunning lampposts:
#17 Lamppost(s)
We enjoyed a great trip out to Leith Docks to visit the
Royal Yacht Britannia
(no garden gnomes there either funnily enough ... not much garden either!)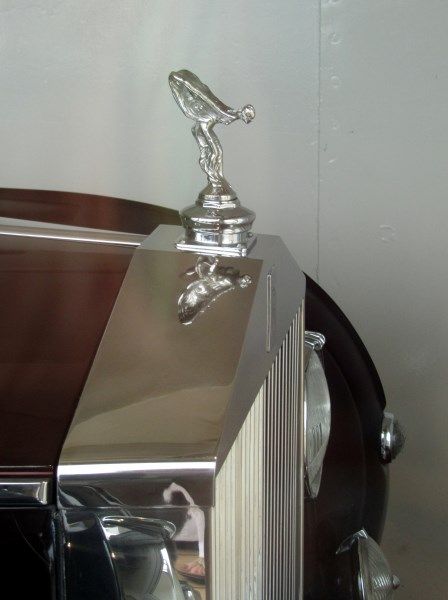 #12 A Mascot
But there was a Rolls Royce on board ... with the Rolls Royce mascot "
Spirit Of Ecstasy
" :-D
The lift doors in the adjacent shopping mall also gave me a chance to capture a juggler (sorely lacking amongst the street entertainers we'd seen)!
#15 A Juggler
On our final day in Edinburgh we ascended the tower containing the
Camera Obscura
, getting some fun photos along the way:
As well as a bird's eye view of a painted bus ...
#20 A Painted Bus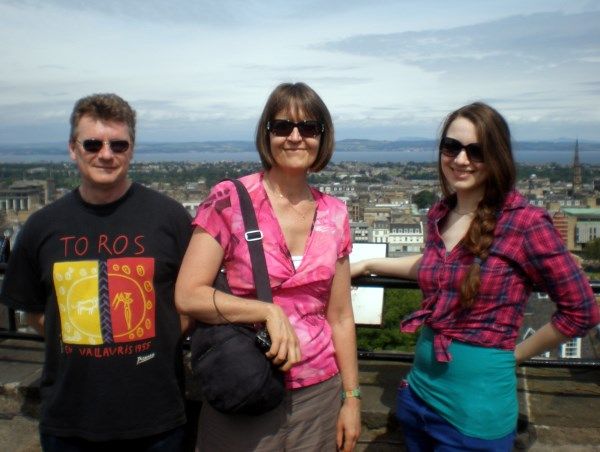 #21 A Photo Of Me With Something Representing The Season
... and Mum took a photo of me (with Hubby & Child No.3) wearing seasonal sunglasses!
After lunch we popped around the corner from our rented town-house to take a look at the gloriously weird new Scottish Parliament building ...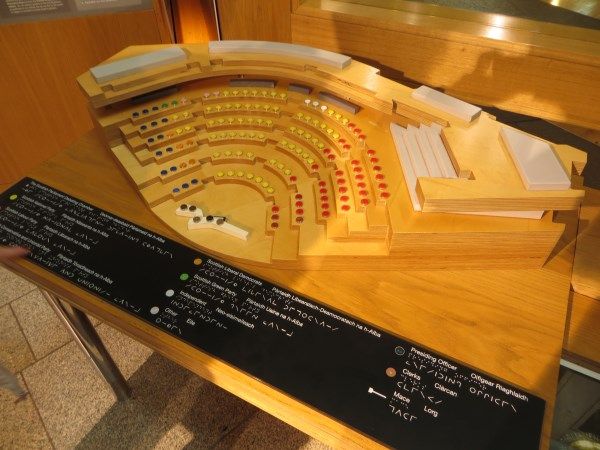 #16 (again) Signs in a language other than English
... where I spotted (lots) more Gaelic and was able to Zoom In (for the
29th time with Helena
) on some very fancy letters for the blind!
#16 (again) English, Gaelic, Braille & Moon
Well how did my
holiday
scavenging do?
Part 1
scored: 8/21 (1,4,5,6,8,9,16,19) and one substitution (B for 2)
Part 2 scored: 7/21 (10,11,12,15,17,20,21)
Plus our journey home (
ZIZO #26
) added two more (7,18)
Total score: 17/21 + B (Missing #2 Gnome, #3 Birds On A Wire, #13 Sunrise, #14 Parade)
Not
toooo
shabby for such a short trip; now it's back to normal hunting for the rest of the summer - are you
scavenging with Rinda
too?