"
Would you like me to bring my satnav?
" I asked my good friend, and fellow scrappy blogger,
Lesley
when she arrived to collect me for our jaunt to Derby, via Castleton and Eyam.
"
No thanks, I've got one
" she replied, "
and anyway I've printed out the directions!
"
Unfortunately a list of Google maps directions from A to B only work if you actually start at A ... and if the list includes place names on the way as well as road numbers ... and if you have a compass ... and perhaps a map ...
"
Erm, do you have a map? I'm struggling to work out where we are on this list!
"
"
No. There are bound to be signs
"
Only the signs seemed few and far between, almost as if the locals didn't want any tourists!
"
I'm sure we've been past those cows before
"
"
Perhaps we should have turned left back there after all ...
"
"
Do you want to turn around or shall we just see what happens?
"
"
Let's just see ...
"
We did see Castleton (along with a lot more Derbyshire countryside than we'd anticipated) and what's more, we were still smiling when we got there:
On the hunt for lunch we snapped a few fellow tourists ...
#4 A Group Of Tourists
#9 A Bakery
... and I zoomed in (for the
30th time
) to add a bakery to my
scavenger hunt
finds. The tourist information centre had postcards too: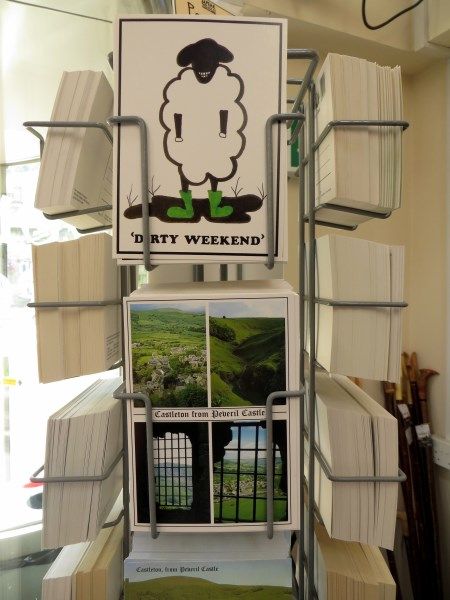 #5 A Rack Of Postcards
It might have been prudent to pick up a map while we were there, because travelling from B to C didn't get any easier with the next list of directions! So we stopped off to check the satnav in Lesley's smartphone and admire Ashford-in-the-Water ...
#9 A Rural Landscape
... before finally finding
Eyam
, still smiling:
After that, we knew what to expect on the final leg of the journey from C to D ... but by now I'd almost got the hang of Lesley's smartphone and we only got lost twice or three times! Our hotel happened to tick off another Scavenger Hunt item by being close to:
#9 A Parade
The next day we explored the centre of Derby and found something quite unexpected:
#18 A Waterfall
After lunch, we managed to locate
Kedleston Hall
reasonably well, but only the grounds were open on Fridays (
beginning to see a jaunty lack of coherent planning from either of us?
) so we took photos of the sheep ...
...one of whom was very interested in Lesley's camera:
#10 A Bride & Groom Bombing My Curious Sheep Photo
We topped off our Derby diversions by needing
THREE
attempts to find the ruins of
Duffield Castle
which was barely signposted (I'm sure the locals didn't want it found) ...
.. before ending our jaunt by meeting up for a meal with our scrappy friend
Nat
:
P.S. I found a handy place to store those Google maps directions before heading home and we didn't get lost once!!