I've just spent a grand weekend in the company of some lovely scrapbookers. It was the fourth meet-up for some while others had a chance to reconnect after a year's absence. For three brave ladies it was an introduction to a supportive, creative, giggling gaggle and for one particular crafter, it was a chance to show off her 2½ week old baby! Some one-handed cutting and sticking was done, but there were more than a dozen willing "aunties" happy to cosset such a sweet wee thing. Here we all are balancing on a handy fire escape at the Royal Agricultural University:
Ruth, Fay, Jo, K (& baby), Zahra, Missus Wookie, Claudia, Alison, Mel
Kathy, Jacky, Julie, Alexa, Lizzie and Me!
We'd got into the creative mood even before the weekend started, by doing a Pass The Page scraplift and perhaps you've already been following the progress along the path taken by
Julie's original page
. I was last in the chain and received
Ruth's version
:
I kept the central band and matching top and bottom borders but adjusted the sizes to match the supplies I had in my
September Counterfeit Kit
. Those two layered anchors transformed and extended into three faux Polaroids and I added some enamel dots as they weren't in my kit.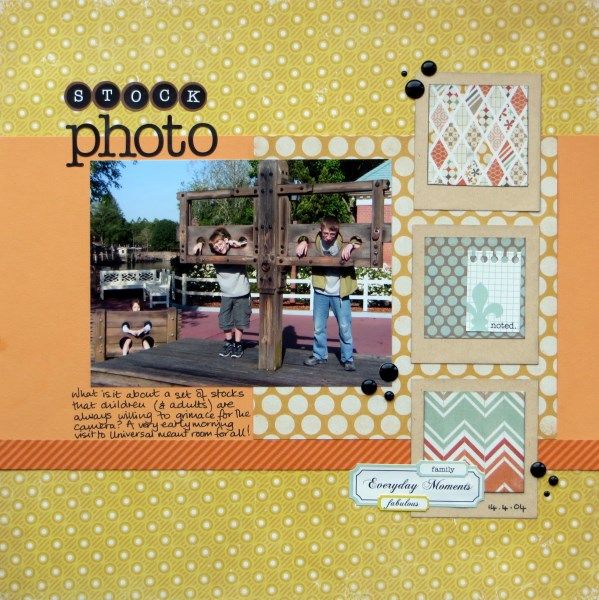 The photo is for our Disney 2004 album ... it must be nearly finished by now ... hard to believe that little girl on the left is just starting her 2nd year at university!
Looking back at the chain of pages we came a long way from Julie's original - it was especially fun to line them up and see the gradual metamorphosis. Thanks for a fun challenge Julie x