Welcome to February's edition of kit counterfeiting with the
Counterfeit kit Challenge Blog
. If you are already hopping you should have reached me via
Clair
. In which case you'll already know that while we generally forge an existing kit, this month we were given the inside gen on
Mind The Scrap
's February Kit. Armed with a list of the kit's ingredients, I was determined to make a dent in some of my TK Maxx shopping bargains this month and I managed to grab several papers that were a bit of a match. First some tiny triangles and an ombre pink sheet, then some stark black on white, a transparency and some regular colourful curves, along with some arrow designs ... throw in some washi and some ribbon to add to the embellishments and my kit was born:
Supplies:
All papers are from a (bargain) MME Cut & Paste Flair Collection Pack
"Snapshots" Click (ombre chevrons reverse), "Today" Present (journal cards reverse)
"Small" Point (arrows reverse), "Wow" Specs (plain black reverse), "Forever" Always (teal ombre reverse)
Webster's Pages Transparency (
3rd time in a kit - MUST use it!
)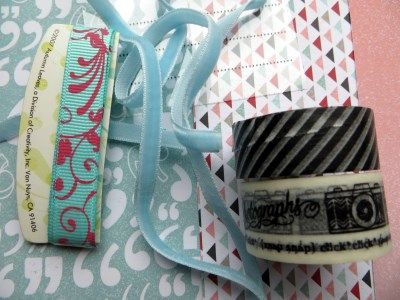 Luxe Brackets rub-ons
Thickers Regards chipboard alphas
Crate Paper Story Time teal alphas
JBS black alphas
MME Cut & Paste Flair "Small" journalling card
Creative Expressions Pearl Swirl
Webster's Pages camera washi and a stripey washi tape
Various ribbons from my stash
Jillibean Soup Smile Mini Placemats
MME Cut & Paste Flair "Small" Enamel Shapes
Mind you, once I saw the photo of the WHOLE kit-to-copy, I wasn't quite so sure that I'd got decent counterfeit ... maybe I'll check out the Forgeries on the Fourth post to add some extras.
Now, let's see if
Julene
has a closer counterfeit today.