I squeezed in with a
late layout
from my April Counterfeit Kit, so it seems only fair to be really early with my first page from May's kit! Especially as it was an example page for my
UKScrappers Team Challenge
which went live this morning! We are scrapping a treasure, with journalling to tell the story (10+ lines or 30+ words) and some bling!
I recently completed my 10th blood donation and the
NHSBT
sent me a badge to commemorate it! Ten donations isn't that big a deal (there was a man giving for the 108th time at my 10th session), but it's progress. You see, I
thought
that my blood was only useful for research purposes following jaundice in my early childhood. However, that certainly is no longer the case, as I discovered when keeping Child No.3 company for her first donation. To make up for lost time, I've been donating as quickly as possible ever since!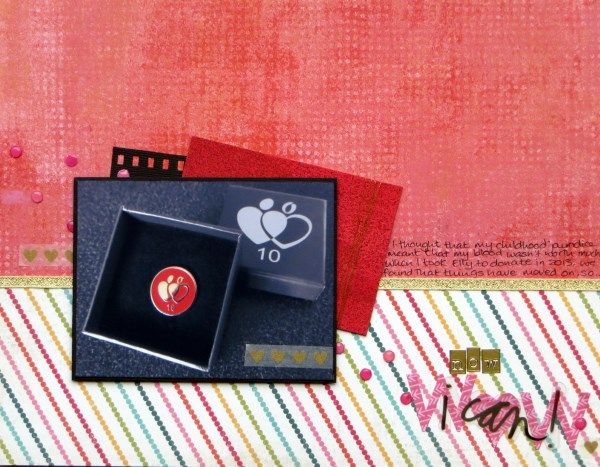 I've used the May Sketch from the FB Sketchy Scrappers Group to make this special page for my Book Of Me using my
May Counterfeit Kit
(including home-made enamel dots - see the
upcoming
CKCB
Forgeries On The Fourth
for details).