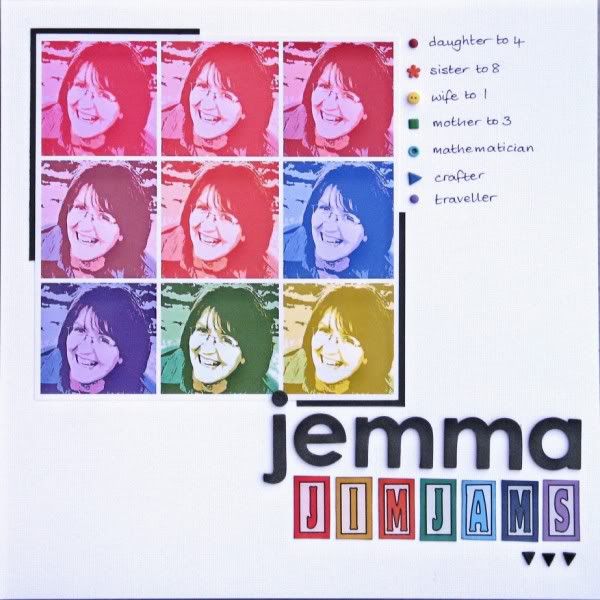 One of my audition pages using an online Warholiser
Some of you may remember
this post
when I revealed that I'd made it through to the final 15 of the UKS Scrap Factor competition, by agreeing to switch from Paper to Hybrid scrapping. Well, it's Week 4 of voting and Week 5 of creating and I'm still just about hanging in there.
It's rather an odd competition because it's not yet about
winning
, it's about
not
losing
at the moment. Each week the two scrappers with the least votes go head-to-head with a new page (not the page from that week's theme) and one of these is eliminated. We don't get to see the votes, nor are comments allowed while the voting is in progress ... it's an odd feeling to have no idea how well you are doing, or indeed how many close shaves or near misses you've had!
I guess it's all good experience though :D
I've had a steep learning curve trying to incorporate hybrid elements into
all
my entries but have come across a remarkable number of free supplies and haven't (yet) had to spend any money at all on the competition - my fellow forgers on the Counterfeit Kit Challenge Blog would be
so
proud of me!
Here are a few links I have found useful so far:
Oscraps - lots of free kits including this fab
date stamp set
- so versatile!
Designer Digitals - some
freebies
and helpful (
video
) tutorials too
Louise Fortune
has designed some universally useful free printables.
UKScrappers is also having a weekly digi/hybrid give-away this year, featuring several digi/hybrid designers - details available in the UKS library
here
, and the downloads are available
here
.
Don't forget that everyone can play along with
the competition
- and be in with a chance of a small weekly prize in one of the three categories (Paper, Hybrid or Digi) - the deadline for Week 5 (Scrap with ONE photo) is 8pm BST Sunday May 15th.