Back at the beginning of the year I found a lovely flower tutorial over at
Scrap a Little
and adapted it slightly to make velvet paper flowers for
this page
using a 1" circle punch. This week I wanted to make a pointier Poinsettia-like flower and adapted the method further by using a heart punch:
Punch some large hearts from paper and cut them in half - I used 5 half-hearts for my flower as I like 5-petalled blooms, but you could use 6 half-hearts, or 4 or whatever! You also need a 1" circle from scrap card and a smaller flower to cover the middle messiness. Ink the edges of the half-hearts and the small flower now if you like that sort of thing. Fold the half-hearts at the round end and glue inside the fold. I flattened the shape slightly at the pointy end to help the final flower stay flatter. Crease the petals on the smaller flower shape upwards to add dimension.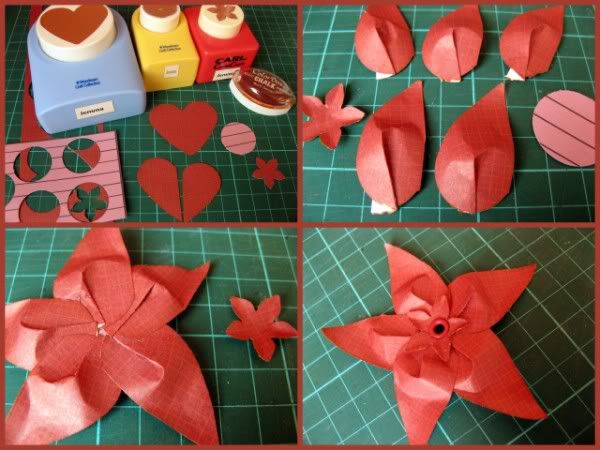 Stick the folded half-hearts onto the 1" card circle and, once dry, cover the messiness in the middle with the small flower. I added an eyelet in the middle, but a brad or button would be just as good.
Do you like making flowers for your pages? If so, do pop over to
Scrap a Little
because Helen has
loads
of great ideas for different styles of flower - you can find them all
here
.