Well who'd have thought that I, originally a blog-o-phobe, would actually
miss
being able to blog? Or be cheesed off that some comments (from me and for me) had been lost? But I did and I am. So if you feel I've been neglecting your blog I probably haven't - I'm sure I was there, but Blogger lost the record of my visit - honest!!
This evening I'm running a small challenge for some fellow scrappers on UKS called "Ready, Steady, SCRAP!" - based on the cookery show where chefs were given a random set of ingredients and had to create a meal from it. I've drawn one colour card, one technique card and two supplies cards for each participant, including myself. They have to create a page based on the 4 cards, but are allowed to add plenty of other stash, just as long as each ingredient is reasonably represented. Here's what I drew for myself:
No adhesive ... quite hard to do ... but not impossible. This page from a few years back was my showcase for all things lacking in glue. Staples, sewing, brads, eyelets, gromlets, slits in the paper, paper clips ... even my Dymo tape was just wrapped around the backing card!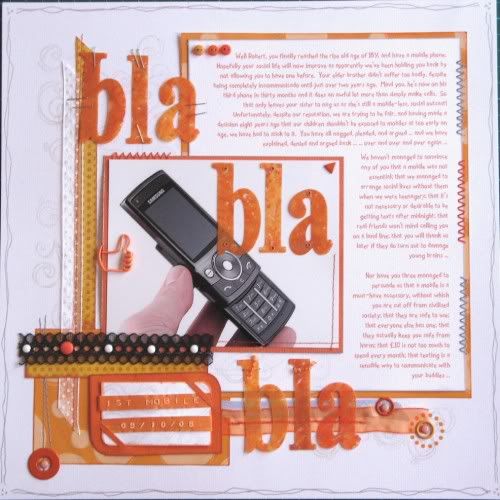 Fancy getting creative and having a go with the ingredients I drew for myself?
Yellow,
No Adhesive,
Punches & Eyelets
Leave me a link and I'll come and look ... ready, steady, SCRAP!